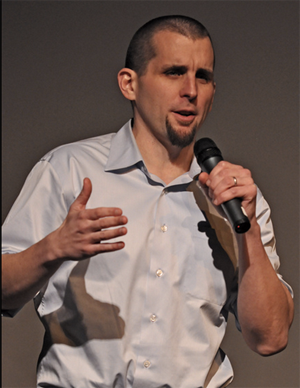 I'm a bestselling author and speaker, most famous for my writing and speaking on creativity, philosophy and management.
My work has appeared in The New York Times, The Washington Post, Forbes, The Wall Street Journal, The Economist, The Guardian, Wired magazine, Forbes, USA Today, Wired, Fast Company, National Public Radio, The Huffington Post and other media. I taught at the University of Washington, was a co-host of CNBC's The Business of Innovation show, I am named on 5 U.S. patents, blog for Harvard Business and BusinessWeek, and have appeared as an  expert on various subjects on CNN, CNBC, NPR and MSNBC. I taught creativity at the University of Washington, I'm the speaker coach for Ignite Seattle and the director of the film project We Make Seattle.
My latest book, The Year Without Pants: WordPress.com & The Future of Work released in Sept 2013 and was named an Amazon.com best book of the year.
I post 2 or 3 times a week on this website. Since 2003, there have been over 1600 posts. Popular topics include creativity, writing well, managing and speaking. My 50 best posts of all time are a great place to start. Many posts are born from reader comments and questions.
I've authored five popular books:
I make my living from book royalties and fees from speaking for hire. You can see me in action here.
I worked at Microsoft from 1994 to 2003, mostly on Internet Explorer 1.0 to 5.0 (not 6). From 2010 to 2012 I worked as a team leader for Automattic on WordPress.com. I'm back to being a full time author and speaker. This short interview describes me well.
Contact: You can contact me directly or follow on Twitter at @berkun.
Media mentions / bylines:   
Media: Low-res headshot, Hi-res
[Photo above by Morgen Schuler]
[Photo credits for home page: Frank Lee, TBA, Randy Stewart, Del Paquette, TBA]