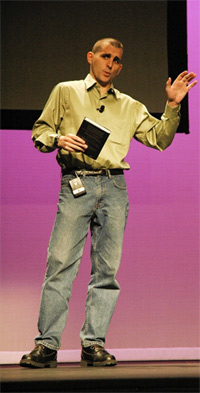 Scott is a writer and speaker. His work has appeared in The New York Times, The Washington Post, Forbes, The Wall Street Journal, The Economist, The Guardian, Wired magazine, National Public Radio, The Huffington Post and other media. He has taught at the University of Washington, blogs for Harvard Business and BusinessWeek, and has appeared frequently as an expert on various subjects on CNN,  CNBC and MSNBC.
He is the bestselling author of four books:
He lives off book royalties and fees from speaking for hire. You can see him in action here.
He worked at Microsoft from 1994 to 2003, mostly on Internet Explorer 1.0 to 5.0 (not 6). From 2010 to 2012 Scott worked for Automattic on WordPress.com. He is back to being a full time author and speaker.
This short interview describes him well.  You can contact him directly or follow on Twitter at @berkun.
(Photo by Halan, Press Headshot available here)