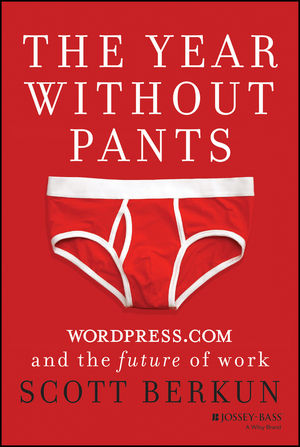 The Year Without Pants: WordPress.com & the Future of Work
An Amazon.com Best Book of 2013. This behind the scenes story of the 8th most popular website in the U.S., where everyone works from home, no one uses email and dozens of improvements launch to customers every day.
"The Year Without Pants is one the most original and important books about what work is really like, and what it takes to do it well, that has ever been written."
—Robert Sutton, professor, Stanford University, and author, New York Times bestsellers The No Asshole Rule and Good Boss, Bad Boss
"The underlying concept—an 'expert' putting himself on the line as an employee— is just fantastic. And then the book gets better from there! I wish I had the balls to do this."
—Guy Kawaski, author, APE: Author, Publisher, Entrepreneur, and former chief evangelist, Apple
"If you want to think differently about entrepreneurship, management, or life in general, read this book."
—Tim Ferriss, author, New York Times bestseller The 4-Hour Workweek
View Amazon listing and reviews or other stores.
Free Chapter
Buy on Amazon.com