Three great machines and innovation limitation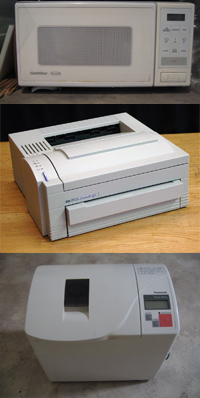 I've owned only three great machines – three devices built so well that they not only lasted more than a decade, but served their purposes so well that I never replaced them with newer models. And by my count, I spent more time interacting with these products than many of the other machines I owned combined.
All three are examples of complete design: they satisfy my needs, work simply, and are perfectly reliable. They're not stylistic gems, but their low key aesthetics fit their function: work without getting in the way. They are better than newer models in many ways, including the fact that innovation and change would likely eliminate what I like so much about these products.
Yet from a business standpoint, these three have some problems. They perfectly captured my needs on the first try, which killed any motivation for upgrading.
Goldstar Microwave: purchased 1992
My wife bought this little guy for her dorm room at CMU. It has survived 4 moves (2 in Pittsburgh, 2 in Seattle) and dozens of parties. It has one of those spinning trays, and can fit a large plate full of food if you know the magic angle of entry. It's the only microwave oven we've ever owned.
Hewlett Packard 4L Printer: purchased 1994
This quiet tiny laserprinter has only required a new toner cartridge every few months. Otherwise I've never opened the case or read the manual. It's outlasted the half dozen or so computers I've purchased, and still sits comfortably in the same location for more than a decade.
Panasonic Bread Machine, SD-BT56: purchased 1994
In the early 90s bread machines were trendy yuppie fare. No one who knew me thought I'd make bread, much less on the same machine for years to come. No single part has been replaced and I've never misprogrammed the timer because it's so simple. I've made bagels, pizza, Pierogi / Piroshki, and countless varieties of bread. Nothing beats waking up in the morning to the smell of a fresh loaf waiting in the kitchen.
The limits of innovation
In the years since these purchases many advancements and innovations in each product line have developed – but I haven't cared. Even if I did, the odds that the designers combined all the features in a simple, reliable, charming way is slim. These devices served a need so well, I didn't bother to check in again with what the market was doing.
For me, with these products, innovation is low on the list of requirements. I don't want for features or long for breakthroughs. I just want these guys to continue to serve me in the quiet, simple, stoic way that they do. There is a limit to the value of product innovation: for many things the highest consumer goal is what I've described: do what I need done and do it well. Which is something obtainable in many products (including software and technology) without any major innovations at all.
What are your great machines?
So what great machines have you used or owned in your life? What made you finally leave them behind? Or if you still use them, what's held you back from replacing them?