Usability review #4: Simplygoogle
#4 on the free review list is SimplyGoogle a utility page, exploding out many of the google options onto a single page. Since there aren't that many user tasks here, there wasn't much to work with. The core problem with the page is layout – it's an endless series of command buttons running down the middle of the page.
The easy remedy is the ever handy radio button: as a rule of thumb, if you can get away with one command button instead of ten, you're making an improvement. You get tons of real estate back, and it's easier to scan the list of options.
Before: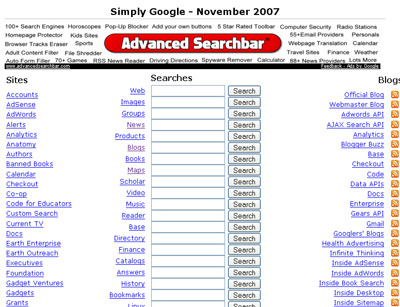 After: