Conference materials (and more) done right – Webstock '08
One highlight of webstock 08 was the fantastic design of their handouts, badges and bags. Most conferences, including design conferences, spend little effort on crafting the things they give attendees. The bags, swag, and badges are typically afterthoughts, rarely made with love, and infrequently reflecting any of the values espoused at the conference itself. Webstock kicked ass on all counts: an example for other conferences to follow. Here are some notes:
The badge
The schedule is upside down. Since the badge hangs on your neck, the schedule, one day per page, is printed upside down so you can read it. Nice (first saw this at GEL).
Not made of plastic . Is it just me, or is there too much laminated plastic at conferences? These badges are made of cardstock and heavy paper, with a natural hand-made feel. It has soft edges and fits comfortably in a shirt or back pocket.
Cord made of fabric for easy reuse. Most conference materials have limited reuse and don't recycle well: those plastic lanyards aren't good for much. But since the cord isn't the standard plastic clip-on cable, but a nice length of fabric, I can use it for something else.
The only major design ding is the name is hard to read. I've yet to see a badge that was truly easy to read from conversation distance: they're always crammed with affiliations and job titles making them not only ugly, but worthless (Here's a good example for reference (scroll down to second picture)).
The bag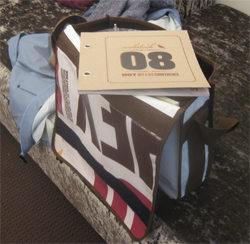 Looks like a high-end hipster bag. Nothing says inauthentic faster than a design conference that gives 500 people ugly, black, generic, '50-zillion compartment but none that fit the things you actually need when traveling' conference bag, replete with a garish logo carelessly glued (yet impossible to remove) on the front cover. Well the webstock bag doesn't look like a conference bag: it looked so good I had to ask twice to make sure it was the conference bag, and not some special prize.
Is made of canvas! I've been to dozens of conferences, yet this is the first bag made of a sturdy, high-quality, non-synthetic material. It feels like a well made thing to hold and gives the vibe it's meant to be used, not just a token gift to make you feel better about the fees you paid to get in.
The t-shirt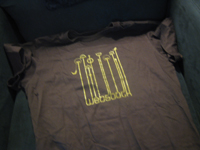 Looks like something from threadless. The front has, I believe, some of the public art from the city of Wellington, with the words Webstock underneath. It's a nice yellow on grey, soft tones, and looks good with a pair of jeans. Unlike the dozens of conference t-shirts I've given away to goodwill over the years, I'm keeping this one.
Came in women's and men's versions. Why should I care as a man? Well, I confess: I like to look at women. Especially when they're wearing clothes meant to fit their curvy figures. I always hear people complain about the low numbers of women at design and tech conferences. Well, maybe if they followed some of webstock's ideas, more women would be interested in finding out about their conferences.
Other bits
Did not dig the food. I'm a foodie, I cook for myself all the time, and the food here was a problem. I admit it was awesome to see an entire vegetarian table and other special diets accounted for, but the food I grazed at at the regular tables didn't have me coming back for more. I didn't see anyone else complaining and everyone seemed to be eating tons, so perhaps it was me. That said, I gave up on the conference food part way through as F Inc, just across the street from the venue in Wellington, was great. I had some of my best meals of my two weeks in the country here.
An agenda that took risks. I missed most of the first day, but what I did at the conference included: powerpoint karaoke, where speakers had to talk for 5 minutes with someone else's slides, and an 8×5 session, where 8 speakers had 5 minutes each. These things mix up the pace of a long conference, give people a different way to communicate, and make interesting mistakes possible. The social hours had awesome live music, craftstock was fun: it was clear, all over the place, that the organizers get what good experience design is all about.
I didn't use the conference program. You can see it in the photo above of the bag, but I didn't refer to it much. I'd read the basic agenda online and had the badge program. I can't say much about its design, though it certainly looked great. My only gripe was that it had a page per speaker, making the book quite big, yet I struggled to find the specific speaker I was looking to track down (Mark from the 8×5 session). Do we need these big program guides anymore? This one sure looked good, but I don't think I saw a soul with one at the actual conference.
If you get a chance to speak at or attend Webstock, don't miss it. You'll feel the love if you go.