Google's web browser (Chrome): early review
I've written often about web browser design, so I happily downloaded Chrome, Google's new web browser (download), a few hours ago. Although I've been running it through its paces, this is an early review, as its over days and weeks of use that some features shine, or disappoint. Disclosure: I worked on IE 1 to 5 for Microsoft in the 1990s, and currently use Firefox 3.0.1.
Summary: Chrome is a low-frills, light-weight, stable (for me) beta quality release. High points are the simple design, easy import of FF/IE bookmarks, and (promise of) greater performance. Low points are beta level completeness in UI, and few of the familiar frills from IE or Firefox. There are big bets in here that challenge existing browsers, but will take several versions to fulfill.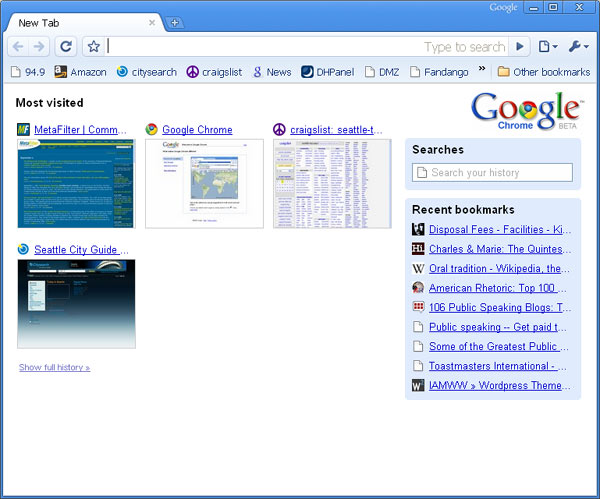 UI: The most notable move is starting with a thumbnail view of most recently visited pages. I've advocated for this in the past: anything a browser does to use past user behavior to accelerate future behavior is a win. Showing the choice of the ten most frequent places I go as the first place is downright basic UI design goodness. Otherwise there isn't much UI to speak of. The the actual browser chrome is thin, making the name ironic. No menus. No home button (option to turn it back on). Dropdowns to the right of the address bar provide access to tools and options, much like IE7/Vista. Bookmarks, in a generic scrolling list, are accessed via "other bookmarks" in the lower right corner.
One clever perk is an improved find. Hitting Cntr-F extends the top right of the toolbar into an edit box, with a up/down arrow combo for moving through hits on the page.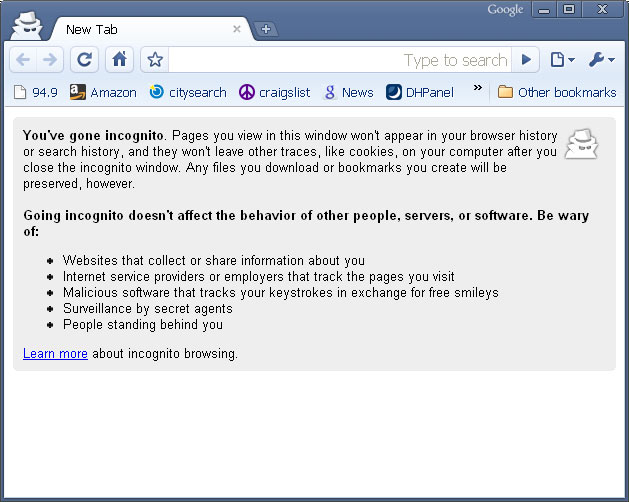 Features: The big news is Incognito mode. You can open a window with maximum privacy: no cookies, no history, no nothing. Gripe is this can't be a tab: it forces a new window. I was intrigued by this until I realized realized previous cookies still worked. So its not an entirely anonymous browser mode – it's anonymous from the moment you create the window forward (either that, or I experienced a bug). History search is provided through the Most frequently used home page – it's simple and worked well, and runs full screen (unlike FF or IE).
Another big move is task monitoring by tab. You can look at each tab as a separate process and kill individual tabs. Right click on the title bar, hit task manager, and there you go. In a couple of hours I didn't get a chance to use this, but if it works as promised whole-browser shutdowns should be uncommon.
Performance: There doesn't seem to be an easy way to test javascript perf – no stanard test suite i could find. Across the board of 3 different (kane, WD, SunSpider) test suites i ran, Chrome won. Margins ran between 20% to 100% improvement over FF or IE7. For subjective measures I spent a good half hour on Jay Is Games, as flash games tend to push browser & system perf to its limits, but didn't notice significant differences. This is an ad-hoc perf analysis, and focused purely on Chrome's strength (javascript), but it was nearly all in Chrome's favor.
Platform . Much of the promise described in the Book about Google Chrome (Charmingly cartooned by Scott McCloud, but a 2 page doc would have been an easier read) is about the platform. Improved security, enhanced performance, and an architecture that makes plugins and extensions easier. It's hard to test or evaluate these things in an afternoon. I definitely liked their story for what they're doing and why, but platform plays require getting FireFox and IE developers to take advantage: a long and slow process, no matter how amazing the new kid on the block is.
Bugs/Gripes:



Tools.Options. There should never be consumer facing UI with labels "Minor tweaks" and "under the hood". Anything in Tools.Options is under the hood. Call the different groups something that helps me pick which grouping I need: Browser Preferences, Network Settings is easy split. This UI is a conceptual mess, which is fine for a beta and common for the UI ghetto that is often Tools.Options, but a proper UI designer should get in here and sanitize.
Wrong Shortcuts. Rule #1 of being the new browser: make it easy for people from old browsers to switch. At best even early adopters will be switching back and forth between Chrome and something else for months. Most of the IE7/Firefox shortcut keys do not work in Chrome. Easy to fix, and hope to see this in the final release. It's easy code. Why not have a FF or IE user mode that swaps in the right shortcuts (Firefox is guilty of this too)?