Instant feedback for speakers?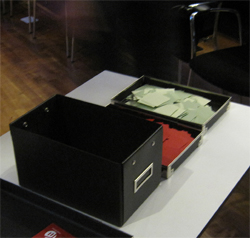 At the Business to Buttons conference this month, I noticed an interesting way to collect feedback on speakers at every session.
Instead of bothering with a complex survey, which has to be sent out, complied and edited, they simply place two voting boxes at the door, with two piles of small cards. One pile green, one pile red.
As you leave you grab a colored card and drop it in the voting box. And by counting the cards it's quickly clear how well received the session was.
The upsides to this system:
It's fast
It's simple: either the session had value or it didn't.
There is no extra work
However there are problems too:
It's not secret. People see which pile you grab a card from, including possibly the speaker or his/her friends, which may change people's votes.
If you get lots of reds it might not be clear why.
But I do love the idea as it quickly gives the speaker a sense of how well they did, and forces audiences to choose one way or the other.
The problems can be solved by finding a way to make it secret, even just by moving the box to outside the room, covering it, or finding a clever way to protect the anonimity of people voting.