No holds barred tactics for UX in organizations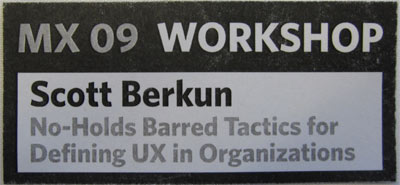 At Adaptive Path's MX event this week (my write up here), 5 teams were given an afternoon to attack a UX organizational challenge. The assignment was to come up with a plan, based on a design brief, for how to plan the future of design at a corporation. The center of our work was to pitch a plan to the CMO (Chief Marketing Officer).
The team I facilitated did 3 things:
Dissect the brief. We made a list of assets and liabilities from the brief, including questions we wanted answered that the brief did not tell us. (e.g. who made the personas? Were they BS or was there any data? etc.)
Tactics inventory from dangerous powerful people. We made a list of possible models to list, but settled on four: P.T. Barnum & ShamWow!, Genghis Khan, Machiavelli, and 007. For each we made a list of tactics or techniques they would use and put them up on the wall.
Divide and conquer. We split up the work into three piles: Work before the pitch, the pitch, and work after the pitch. And then split into three teams that came up with a plan for each one.
1. Analysis of Brief
Assets

CMO is interested in customers
We have an opportunity vs. other banks
New CMO may be open to change
We know more about UX than the CMO does
Only us and the engineering team can make prototypes

Liabilities

CMO is a mystery
Ignorant of other what other groups are doing
Bad track record in 2008 – we don't know what happened
CMO may have no influence
We don't know who made the personas and if they're accurate
We don't know how we're perceived
Ignorant of political landscape among directors
2. Tactics from Dangerous People
Genghis Khan / Alexander The Great

Fire the CMO
Find the CMO's weaknesses
Rewrite the brief and/or it's goals
Have a Plan B
How do we get the high ground? Or flank our objectives?
How do we set the agenda for the pitch meeting?
Who are our allies?
How do we make the battlefield bigger?

Machiavelli / Rove / Trump

Use knowledge of CMO's personal life & work history
Who are the CMO's enemies?
Discredit competitors (other directors)
Learn what other directors are pitching
Find weak points, then exploit
Withhold info before the pitch
Decoy meetings – make agreements before real meetings
Promise support for other's ideas, then selectively forget
Have a secret prototype shown only at pitch

P.T. Barnum / ShamWow!

Play to a specific, strong audience need
Have a great story
Consider entertainment value
Repeat a key point again and again and again
Gloss over details that work against us
Have a memorable or evocative name
Evangalize: show passion about idea and share it

007 / Mystique (x-men)

Spy on peers, superiors (what will they pitch?)
Spy on the CMO
Flirt or sleep with CMO, peers, or their subordinates
Hire agency to design pitch, but don't tell anyone
Create a diversion during pitch
Use a technology no one else has (Q)
3. Divide and Conquer
We split up and let each sub-team explore what tactics they wanted to use and how they'd use them. The final pitch in front of the entire conference, involved bribes, seductions, coups, misdirections, spies, threats of dissension and more.
Postmortem
One surprise they had for everyone was the appearance of a CMO for everyone to pitch to, played by Laura. This worked against us. Since we volunteered to go last, we watched the other 4 teams pitch directly to her. We had planned to present our plan for what to do before and after the pitch, which is quite weird to explain if the person you're going to pitch to is there.
The bigger failing was mine: I didn't plan time for us to dry run our pitch, which is a rookie oversight. The workshop itself was fun and interesting, but our presentation, while entertaining, mostly just scared people into thinking working with us would turn into the TV show Survivor (or an adult version of Lord of the Flies).
Thinking about what characters of any kind would do in a management or leadership situation is a fun way to discover alternatives and tactics and generate opinionated discussions – change the characters and you get a whole new way to look at a problem.