Can you Redesign a Chocolate Bar?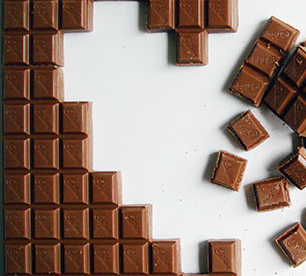 Over on designmind, David Sherwin, author of the upcoming book Creative Workshop, is sharing some of the design challenges from his book on his blog. Some of these are really fun and provocative.
This week's challenge:
Choose a product you use as part of your day-to-day life—food, drink, paper products, etc.—and  redesign or repackage it so that consumers will want to use less of it.

How can you use your design skills to make more out of less and encourage people to use that reduced quantity in a more mindful manner?
There are some photos of what a redesigned chocolate bar might look like.
According to David, this challenge was inspired by designer Tithi Kutchamuch, who said "I buy Twix Extra because it's only ten pence more expensive… I finish it in one go, and feel guilty for the rest of the day… Bargain food persuades people by playing with the value of money, which has brought a lot of problems to society: over nutrition, eating disorders, obesity, illness, guilt, wasting food, wasting resources, over production, etc. Can design make people buy food that offers less?"