When visualizations go wrong, part 2
Here's part 2 of my continuing series of visualizations gone wrong (part 1 was about a viz on web browser market share).
The idea of metaphor is a good one. It's one of the oldest communication tools we have. It's clever and wise to use something people understand to help explain something they don't.
There's even a good argument to be made that much of all learning is done through some kind of metaphor.
But using any metaphor at all, or a well known one from a context that is unknown or feared in another, doesn't help. It's bad news all around if you choose an obscure, complex unfondly remembered one such as the Periodic table, as these folks did.
They replaced the elements with, ironically enough, visualization methods.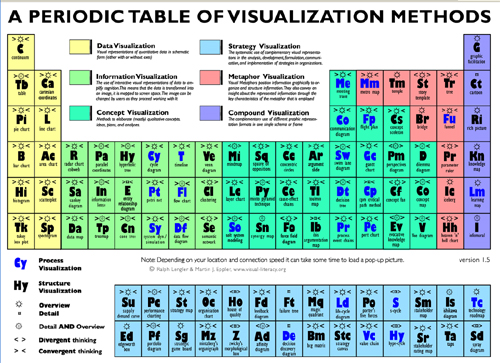 The Perioidic table itself is just plain weird. Is it any wonder so few people understand, or care to understand, chemistry? I've had people explain to me why it's organized the way it is, and there is a logic to it, but it must be one of the least visually elegant and hardest to learn or memorize tables I know of.
The fact that this thing was made, or at least promoted, by a site called Visual Literacy challenges the limits of oxymorons.
And if that weren't enough, there's more. Mouse over any of the elements and you get the visual wonderment that is the unexpected pop-up window: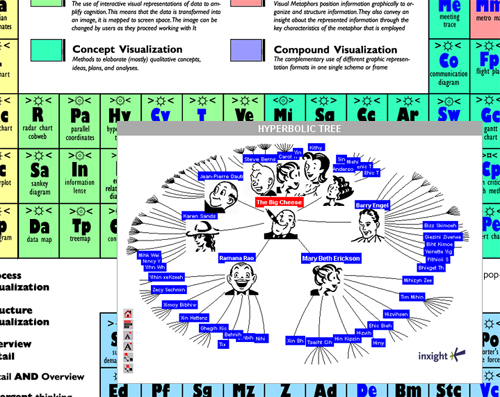 One of the fundamental questions of all visualizations is this: How is this better than a flat, two or three column alphabetical list?
It's surprisingly rare that in any expected kind of usage any visualization performs better on any task, from ease of discovery, to ease of use, to retention, that a flat alphabetical list.
In this case, a list of all methods, with a description and a picture, all appearing in the same table, on the same page, requiring no magic mouse-overs or comprehension of high school chemistry would be a big and easy win.
Of course, some people have tried to make improved versions of the periodic table, but going circular, as we talked about last time, has its problems.
Also see this version designed for kids (PDF) – has some advantages over the others.