How Microsoft kills cool projects
There's a good article detailing the death of Microsoft Courier, a tablet device project from 2009/10 led by J. Allard, of XBOX fame. The core story rests on this observation:
Within a few weeks, Courier was cancelled because the product didn't clearly align with the company's Windows and Office franchises, according to sources. A few months after that, both Allard and Bach announced plans to leave Microsoft, though both executives have said their decisions to move on were unrelated to the Courier cancellation.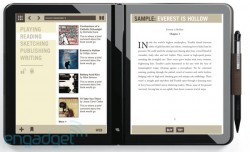 Most interesting products for today's world can not easily align with business models created in 1995.  I know many smart people who had great prototypes for new products while at Microsoft, who were saddened to learn the escape velocity of a project is, at minimum, greater than the gravity of its two largest businesses (Office & Windows). They'd watch with sad eyes as their well conceived plans were smashed to pieces against the massively successful, but ultimately boring, twin leviathans of Microsoft.  The details of the Courier story, a well designed product, fully staffed with 100+ creative employees, is sad indeed. A very different future for Microsoft was ready to born, but never saw the light of day (photos and demos).
During the browser wars, a similar, but rarely told, story explains why IE4 was the pinnacle of browser innovation in 1997, and then took a right turn into stagnation.
Brad Silverberg, VP of internet things circa 1997, intended for the web to replace Windows. He wanted Microsoft to make the web a platform, and launched versions of IE on Mac and IE on Unix (to the dismay of the industry. It's the only UNIX application Microsoft has released).  The idea was to leave OS'es behind, and focus on the web as the core way people will interact with computers. A prophetically Googlean strategy.
But when it came time for Gates to make the call, Jim Alchin, the VP of Windows, won. Windows was more important. As a result, after IE4 (and the implosion of Netscape), plans for making the web the future platform for the company were shut down, in favor of protecting the Windows franchise.
Many lament these choices. It seems boring to continually protect the status quo. But when your status quo generates $60 billion annually, a rate of income only a handful of companies in history have achieved, few complainers would have the courage to act differently if they were in charge.