Why give a book away for free?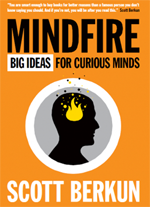 Last week I decided to give away my new book, Mindfire: Big Ideas for Curious Minds, for free from my website, for 48 hours. Some have asked me why I would do this, as I've been a popular author and my previous books have sold well.
Here's a list of reasons why:
Platform. I could have sold some books, but by giving it away for a period of time I got extra PR and reach I would have had to pay for otherwise.  I tripled the size of my mailing list in just two days.
Interest. It's a way to generate interest in the book, and the wave of interest will outlast the 48 hour free period (at least I hope so :) Sales are slow today, but I'm betting the free readers will like what they read, and create a second wave of interest.
The book is a collection of essays already online. I wanted to ensure my loyal readers didn't pay for the book in digital form, since they'd read much of the book already. I wanted to avoid any fan saying "I didn't realize and I paid for it – I feel like a sucker".  Instead I want them to feel enlisted to spread my work, and making a new book free empowers them to do that.
I'm a long-term author. I'm not worried about the sales of any particular book. I need to experiment and try different things to learn about how all this works so I'm smarter about how to create and market the work I do.
I'd like to broaden my reputation. Mindfire covers a wide range of challenging topics not in my other books, and it will expand people's perceptions of my abilities.  I'd gladly trade a pile of royalties (short-term) for an improved perception and wider fan base (long-term).
Giving it away generates interest from people who want to know why an established author would do this :). It's another way to gain attention for positive reasons.
You can download a free preview of Mindfire: Big Ideas for Curious Minds  (nearly 1/3rd of the content) right here.
The book is for sale on amazon.com (print / kindle), Barnes and Noble, Sony Nook and iBookstore.
Also see, Why I decided to self publish the book.