Why you should donate blood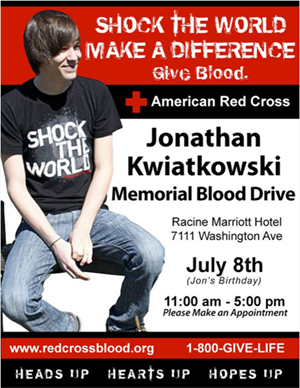 Few people think about blood until they're at the hospital in an emergency, and learn the only thing that can save their child, husband, or themselves, from death, is a transfusion of blood.  But where does the blood come from? It's shocking, I know, but blood comes from PEOPLE. People like you and me.
I joke, but given my sordid history, I've been the recipient of many blood transfusions. I know first hand without the donations from many good people I will never meet, I wouldn't be here.
Recently a reader of mine had a tragedy – their son, Jonathan Kwiatkowski, was murdered. And because of how he was killed, he was not granted his wish of donating his organs so that others can live.
On July 8th, which would have been his 22nd birthday, they are planning a special blood drive event in memory of their son. You can join their Facebook page here and at least drop a note wishing them well in what they're doing.
The event is centered in Racine, WI, but they are encouraging people to donate blood at any Red Cross Donation Center throughout the US.  Visit www.redcrossblood.org or call 1-800-733 2767 to find a location near you.  When you donate, please mention that you are donating in support of the Jonathan Kwiatkowski Blood Drive and mention the Sponsor Code 4643.
FAQ on donating blood:
Step by step walkthrough of what the experience is like, from the Red Cross
Every three seconds, someone needs a blood transfusion.
One pint of blood from one donor can save up to three lives.
It's free.
You get free  juice, donuts and cookies. Yum.
20 percent of blood recipients are children.
Giving blood is 100 percent safe. It is not possible to get AIDS or any disease by donating blood to the American Red Cross. A new sterile needle is used for each donor and discarded afterwards.
About 60 percent of the population are eligible to donate blood, yet less than 4 percent do.
At least 500 pints of blood must be collected daily to meet the needs of most hospitals.
The U.S. imports more than 20 percent of our blood supply.
It takes 10 minutes to donate blood (30-60 minutes for the entire experience).
The average adult body has 10-12 pints of blood. Doctors say that healthy adults may give regularly because the body quickly replaces the blood you donate.
(Sources: give2life, Bloodcenters)
Please visit and like the Join the Jonathan K. Facebook page.