Noah: movie review (Spoiler Free)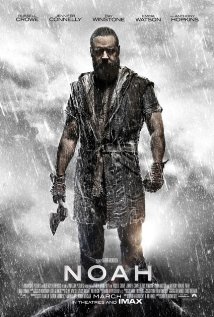 I'm fascinated by religious history and love movies, so it's no surprise I've seen many films with religious themes. Even when I'm familiar with the texts they refer to, I often go back to reread and compare how the filmmakers handled the many challenges of trying to make a narrative movie about texts written for very different purposes. Most bible movies fall under the pressure to convert these stories into modern forms. The Ten Commandments, as over the top as it can be, is one of the best of these attempts. While The Bible, starting George C. Scott, Richard Burton and Elizabeth Taylor is perhaps the worst (though its coverage of the tower of Babel is the only one I've ever seen on film).
Noah (2014) is one of the stranger movies about a biblical story you're ever going to see. It is an interesting, but also frustrating film. I'd recommend it primarily if you are interested in how a talented artist used such an old and familiar story as the framework for many bold and unexpected turns. Purely as a telling of the tale from the bible it doesn't work as well, and it's also choppy as a hero driven disaster film, which is perhaps the simplest way to frame the narrative of the story. There are anachronisms everywhere, so many that I lost count (everyone is white, they speak with a British accent, they have finely tailored clothes, and on it goes). But this was ok. From the beginning of the film it's made clear this is an artist at work. The rules he is following are his own and I found this liberating and challenging.
The passages in the bible about Noah are barely a few pages, and much of them are about the ridiculous plans God gives Noah to build the ark. I always find engineering instructions in religious texts to be comical, as I'm not sure who they're trying to convince that anyone would build anything the way they describe even in ancient times (engineers were clearly not included in the meetings about how to tell these stories). It often reminds me of the techno-babble in Star Trek, designed as theatrics mostly to impress the uninitiated.
Director Aronofsky takes full advantage of how much is missing from the Noah story, in some cases for better and others for worse. It's a beautiful film. There are gorgeous montages, wondrous landscapes, and finely crafted recreations of bits of the Genesis story (although interpreted in ways surprising to many Christians, who forget that the Old Testament was written by Jews, as a Jewish text, with their own interpretations which were favored by these filmmakers). The pacing of the story is odd, almost clumsy, with a heavy reliance on Hollywood cliches. This was surprising given Aronofsky's body of work, where he has always placed his vision, however flawed, above falling into these kinds of empty patterns. My favorite speech of the film is uttered by the bad guy (a character absent from the Genesis story itself), and it never gets the resonance it should simply because of whose mouth it comes from.
Making films about the Bible always upsets someone, as most religious factions are continually shocked to learn all of the other factions interpret these texts differently than they do (cue The People's Front of Judea). I fail to see why films are expected to follow their source material precisely, religious or otherwise. Film is a different medium and trying to replicate a book in film is a mistake (part of why so many movies about the bible are so bad: they're overly reverent for the trivia). It's the spirit of the material, the themes and messages, that are most important to capture. This version of Noah has been criticized for breaking with details from the story in the bible. I didn't mind most of these departures, I just couldn't decide why some of these choices were made (e.g. In Genesis all of Noah's boys bring their wives with them, but in the movie this is not the case). Theses departures often muddied the messages and questions, rather than clarifying or strengthening them.
The film is well acted. The performances are good. There are stunning, truly powerful visual moments. And even the hypocrisy of God's instructions and behavior, a fundamental theme of the Old Testament, is made clear at times. But the muddy screenplay fails these contributions. This makes it tough to recommend the movie generally. If you like Aronofsky, the Bible, challenging films, or films with religious or philosophical themes, then go see it.