Which is more dangerous: writing badly or reading poorly?
On Tuesdays I generally write about the top voted question on Ask Berkun (see the lovely archive). This week I turned the tables, and asked my followers on Twitter a simple question:
Which is more dangerous: people who write badly, or people who read poorly?
Polls like this are mostly just fun for me. Even so, I try to word them carefully and think through how to make the question less leading towards one answer. And then before I post it, I stop to think up a guess at what the results will be.
In this case I predicted it would be nearly even. I thought the poll was clever, but not particularly interesting as binary choices often create false dichotomies. I admit I was quite surprised to see the result (21% write badly, 79% read poorly):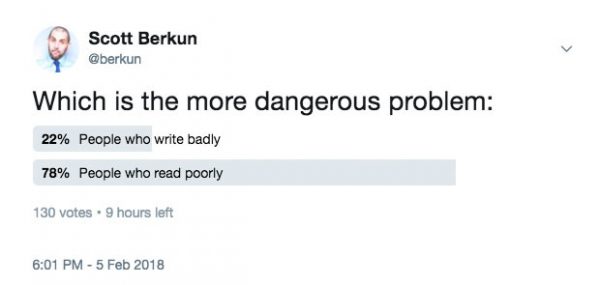 Yes, it's true that binary polls are often unfair as in any real-life decision there are layers of nuance, clarifications and details that change both how you might define the problem and how you'd try to solve it. But the brutality of the forced choice has a power too, at least as a thought experiment: if you could only solve one of the two problems, which would you solve?
I see now that I agree with the answer. Here's why:
A bad reader can squander the work of a great writer. If the reader is only skimming headlines or reading primarily for speed rather than comprehension, it's easy for them to misunderstand or overlook the value of what they read. Reading is always the last step and it takes place entirely in the reader's mind, not the writer's. And of course there are far more readers than writers as it only takes one writer to produce something, but hundreds or thousands of readers can read that one work.
Misinformation and fake news are popularized by readers.  Our decision to share something on social media hinges on our (mis)comprehension of its accuracy, meaning or truthfulness, or our disregard for those things. What becomes a trend, goes viral or becomes popular is based entirely on readers opinions no matter how (un)informed they are, or how many great works from great writers they have entirely ignored.
Learning to read better helps you to write better. The most common and worthy advice from writing teachers is to become a better reader and to read better works. It's by improving the questions you ask as a reader, and developing the patience to pause and think, to reconsider, to glance between the lines, that the capacity to write well begins to grow. If we want better writers, we need better readers first.
Now that you are finished reading what I have written, what comments will you write for me to read? I look forward to reading your thoughts with extreme generosity, thoughtfulness, and patience :)
(I tried to find a picture of dangerous reading, and this was the best rights-free image I could find. I mean, she could trip in the sand, or maybe a big rogue wave could come up a knock her over, right?)