Want a better world, by design? Join the street team
Want to read my upcoming book, How Design Makes The World, before everyone else?

And/or are you passionate about good design, of products, of cities, of societies, and want more people to understand it, care about it and fight for it? Especially with all that's happening now?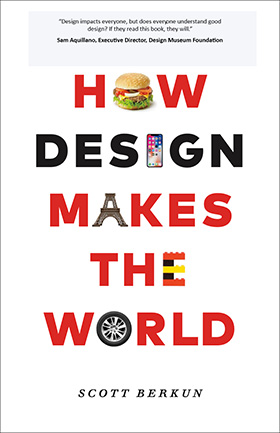 Then I need you! You are a great candidate for this street team.
A street team is a small group of people passionate about a book, or a topic, who are willing to volunteer a little time in return for early access.
You probably already talk to your coworkers and friends about why they should care more about good design or a well-designed world (or wish you were better at it). This book was designed to be a natural ally and asset for you.
What you get if you join:
a free pre-release copy of the book
images, quotes, excerpts and other easy to share material
weekly goals so we can work together as a team
a fun and good project to root for
Training on how to persuade people to care about design
rewards like signed book copies and free coaching sessions for most active folks 
Direct access to me as I'm on the team too! 
What you do:
Write a review on Amazon / GoodReads
Share images and quotes to your network, on Facebook, Twitter or other media
Recommend the book to influential people you know
Teach people why good design is important (the book makes this easy)
Interested? All you have to do is go here and answer a few questions. Thank you.