How to Run a Brainstorming Meeting
Published March, 2007
(Also see: In defense of brainstorming)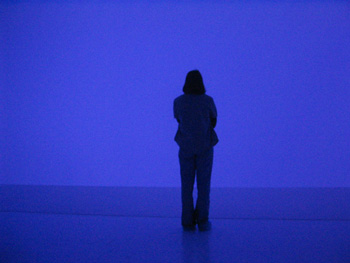 The most important thing about a brainstorming session is what happens after it ends. What good is it to find 100 great ideas if they go absolutely nowhere?
While you can read hundreds of books on better creativity techniques, the most important thing is figuring out how brainstorming fits into the larger decision making process your team has. Even if you improve how you run a creativity session, and get more and better ideas, you'll still have the harder, and much different, challenge of being effective in using those ideas to do something good in your organization. With this central point in mind, the following essay covers how to run brainstorming sessions in a way that is most likely to be effective afterwards.
Is brainstorming necessary?
It's interesting to consider why coming up with ideas needs to be a social process. You don't hear about novelists, playwrights or painters holding brainstorming meetings where they make long lists of ideas together. As far as I know, Mozart, Curie and Beethoven didn't spend much time in conference rooms scribbling at whiteboards with dry-erase markers ("There are no bad notes, there are no bad notes…").
Great programmers, designers, and even managers come up with many of their best ideas in the solitary space of their own minds, or when working alone at desks and computers. It's important to remember that you don't need a fancy process to generate ideas: a brain, some desire, and some time are all you need. However, simply because you don't need brainstorming meetings doesn't mean they don't have value. It's just important to know what that value is before you get a bunch of people in a room and risk wasting their time.
Brainstorming (loosely defined as any group activity involving the pursuit of new ideas, although Alex Osborn, who came up with the name, had a strictly defined process in mind) is popular for two reasons, one good and one bad. The good reason is that a typical brainstorming session brings people together into the creative process, and increases the social nature of the project. 8 or 10 people can get in a room and , and if the meeting is run properly, all feel as though they are contributing to what they will be working on in the future. It can be a bonding experience and, more importantly, get people thinking and communicating with each other about topics relevant to the next few weeks or months of work. After the brainstorming session, people have some shared questions and ideas to discuss over lunch, in the hallways, or at drinks after work. This side effect of injecting something interesting and meaningful to talk about into the team culture is sometimes more valuable that the brainstorming results itself. The best ideas might come from those side conversations, not the big brainstorming session.
The bad reason that brainstorming is popular is that it is a convenient way for bad managers to pretend that the team is involved in the direction of the project. A team leader can convince themselves that they know how to cultivate and work with ideas that are not their own simply by holding a meeting. Most of the time it's just ignorance: they don't know any better, and only have all of their own bad brainstorming experiences (with their own previous history of bad managers) to borrow from. In this "non-evil semi-incompetent" case, the manager typically holds a stiff and awkward meeting, some stuff is written down, a few smiles are exchanged, and then: nothing happens.
The manager returns to his office with a big stack of notes, puts the stack next to his other stacks of things he's not sure what to do with, and the notes are never seen or used again. He might try to return to the notes once or twice, but can't figure out a way to convert it into something useful, so it gets postponed and postponed until the ideas aren't ripe anymore. Life goes on. Project decisions are made much as they would be otherwise. In the truly evil case (which is rare) of the manager deliberately manipulating his team and the entire exercise of brainstorming is deliberately done for show: a calculated act to deny any complaints of lack of involvement from people on the team.
The generic brainstorming meeting: purpose and process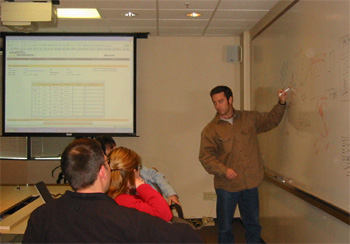 The simplest reason to hold a brainstorming meeting is to increase the volume of possible ideas. By distributing a problem across 5 or 10 people, in theory, you should be able to obtain a wider array of different ideas much faster than any one person could on their own. Common examples are names for products, features for the next release, possible solutions to a difficult situation, goals for the team, or even locations for the next team morale event. Also in theory, the person who has to make final decisions is somehow benefited by the meeting, and can take all of the ideas and notes and easily convert them into some kind of action. Sadly, this is harder to do that most people expect. Raw lists of poorly formed and highly divergent suggestions are a nightmare to work with. To avoid these problems, here are some thoughts on purpose and process for good brainstorming sessions:
Location matters: Find a comfortable quiet room. If you can, pick a space not used by your team for any other purpose. If you use the same room that you use for nightmarishly boring status meetings, don't expect people to be stimulated by the surroundings. Make sure there are big visible materials for writing on (whiteboards, or easels), and a big chunk of time (at least an hour, preferably 2). Caffeine is a plus, as is food, comfy chairs, or anything you can think of that will help the people on your team to be playful.
Have a specific purpose: The leader of the meeting should arrive with a specific question he's trying to answer or problem to explore. It should be made clear to the group what it is, and the group should be provided with as much supporting information as they need. For some problems people will need background information a few days before the meeting to be effective in offering solutions. If the goal is to come up with ways to increase sales by 10%, and the team doesn't understand anything about how the sales team works, don't expect them to offer good solutions. Match the purpose to the knowledge and background people might need: otherwise you'll spend your brainstorm meeting lecturing people on the basics of sales strategy. It's acceptable to have the goal of "radically reinvent our website" or something blue sky: just be clear in your own mind if that's really what you want, and really what will be useful to you in the days and weeks that follow.
Know what you want, and what to do with it: If you are looking for a big raw list of news ideas to review later, then have a plan for how you'll review it. The simplest strategy is to plan an hour afterwards, for yourself alone, to pull out the 5 or 10 most interesting ideas (based on your opinion, or the group's) and examine them in detail. But also consider the people who attend: should that list of 5 or 10 things get sent out to them? Will you possibly assign those interesting ideas out to people to investigate further? Whatever your plan is, make it clear to the group before you start. There is nothing worse for a team to feel their creative thinking falling into a black hole. You'll get better ideas and more energy from people if they can see where it's all going to go. At a minimum, say you don't know what happens next, but give them a deadline for when they'll get an update from you. If you fail to do so, don't expect people to be so creative at the next brainstorming session.
Know how to facilitate: Someone has to run the meeting, guiding the conversation in useful directions. Sometimes this can be the manager or lead person, but some managers don't have the right skills or personality for it. Good facilitation requires good listening skills, very sharp group awareness, and the ability to help people express their ideas. The facilitator should run the whiteboard, writing down ideas as people come up with them, preventing people from interrupting each other, and giving the floor to quieter people who wouldn't ordinarily find a way to contribute on their own (Also see brainwriting). Often the facilitator has to minimize the number of their own contributions, in favor of just trying to help the group. Know who the best facilitator is and have them do it. Or hire one.
Put the focus on the list: The whiteboard or easel should be the focal point of the meeting. Make it clear to everyone in the room that you are getting together with the goal of adding as many items as possible to that whiteboard. Good ideas are nice, but you are looking for raw quantity (if you take the time to sort out ideas too much, you'll lose your creative momentum. You can evaluate ideas later) The person who runs the whiteboard should push the group to help each other rephrase or best describe any idea that is currently being discussed. This is another critical facilitation skill.
Comfort is key: Creative thinking involves exploring non-obvious and non-traditional ideas to find unexpected good ones. To find them you have to sort through many potential embarrassing, silly, goofy, or outrageous ideas. The catch is you can't separate the good ones from the goofy ones until you've brought them out in the open and talked them through. The problem is that most people in the workplace are terrified of looking stupid in front of their peers or their superiors. They'll only take that risk if they have great trust in the forum, the people in the room, or their manager. There are no tricks in achieving this, or to remedy it. Much of it starts with the leaders and facilitators to prove that it's safe to have bad or goofy ideas, and rewarding others who are creatively courageous. However, if you have a group that isn't comfortable being creative in front of each other, make the group smaller. Start with 2 or 3 people, or just let people work alone, and give their lists of ideas directly to you. Find the smallest nugget possible to start growing creative comfort on your team, reward it (even the goofy and outrageous ideas), and then slowly integrate that kind of comfort into larger group/team activities.
Establish the ground rules: This can help to establish comfort and make the time more useful. Will the meeting be a free for all, where anyone can suggest things at any time? Should people raise their hands? Who will write things down and document the proceedings? Is interrupting ok? Should people try to interpret and expand on each other's ideas before yelling out another one of their own? Do what you can to reward team play: brainstorming should be about communicating, not competing.
Postpone criticism: This is the creativity killer. Evaluating ideas too much kills new ideas. It does. Our minds shut down in a way if too much analysis goes on. A little bit is ok, but as soon as people start making implementation diagrams or talking about object models, it's gone too far. Move on to the next idea. Keep it moving, and postpone evaluation till later. The only exception is questions people ask to help them understand and improve on the initial idea, or to take the idea in a different direction. It's up to the facilitator to hold people to this, and to keep the meeting moving in a positive creative direction.
Ideas in action
I never understood what a good brainstorming meeting felt like until I was in one. It was very different from the others I'd been in, and I suddenly understood what all those other teams and managers else had been trying and failing to do. The best I can do to describe it in this essay is to offer you a sample play by play from a good brainstorming meeting. Assume these people all work on the same team, and have been given the problem of improving communication on the team. Bob is the team manager; everyone else works on his team.
Fred: "We could write better email. I don't think we often write clearly… lots of long mails that never get read."
Sally: "Yeah, you're right"
Fred: "How about limiting email length?"
Bob: "Hmmm…"
Fred: "Yeah, you know. If you need more than X paragraphs, you should call a meeting or something."
Sally:" I don't know. That seems, well, limiting."
Everyone laughs.
Fred: "Ok, how about we just limit Bob's emails."
Everyone laughs louder, including Bob.
Sally: "Well, it's not length that's the problem. It's quality. I think we rush our way through things, and then wonder why it takes so long to get anything done. I don't know how you can get people as busy as we are to stop rushing."
Bob: "Ok. Who do we think communicates well, or writes quality email around here, and what I can do to reward them, or encourage others to learn from them?"
The room is silent.
"Hold on, I'm not doing my job facilitating. Let's get this down."
Bob adds to the list on the whiteboard, a bullet for each item: Write better email, shorter email, quality email, rewards for quality communication?
Bob: "Ok. Good, good. Is there more here, or should we move on?"
And so on. Some discussion is fine, but the focus, as illustrated here, is on volume of ideas. Everyone contributes. Everyone is equal. Things move quickly and freely, but there is a hand that guides what happens. There is lots of laughing, positive energy, and seeding of new thoughts. People are willing to consider what others say, and run with their ideas.
When the discussion slows down and dies, it dies. Good facilitators can try games or exercises to get people going again, but often there's more value in ending and coming back again later. Ask people to drop by or email you if they come up with more ideas in the next few hours.
Some brainstorming tricks
Every creative person I know has a handful of tricks they use when doing idea generation. Many of the books I've seen with brainstorming in the title focus on these sorts of games and exercises, but I've found that you don't need to know very many of them (plus most of them are very similar).
What is the opposite of what we want (The opposite game)? Get the group to describe, in detail, the opposite of what you want to have happen. What's the worst web navigation design possible? This never fails to get people to smile, and dig in. It's just so much fun to work the other way for once. The trick here is that before people know it, they're sharing ideas, being clever, and communicating well. At the peak of momentum, shift gears the other way. "Ok. We have a horrible design. How do we achieve the opposite of this?" You'll be surprised at how original some of the ideas that follow will be.
Random theme generators: (This works only for design related brainstorming) Before the meeting, make a big list of adjectives, colors, verbs, and attributes that might or might not apply to the project (20 or 30 of each). Write them on index cards, but keep them in stacks. Shuffle each stack. Then pick one from each, and try to design something for it. "Agile blue focused". What features would a car/website/software/sneaker with these attributes have? Or go through the list of adjectives and verbs and get the group to pick the ones that are most interesting in relation to the problem at hand. Papernak's Design for the real world has a set of these, but other there are similar kits you can buy (Anyone know of other kits? This was the only one I could find. Let me know if you recommend others.)
Rotate: Anyone, at any time, can call out "rotate" and everyone in the room has to get up from where they are sitting, and move to the chair to their left. I have no evidence to prove it, but I'm convinced moving around physically helps people to move around mentally. It's usually the facilitator that calls this out when people get stuck, or the energy doesn't feel right. Bonus points for getting people to do the hokie pokie (a stupid childhood dance) or something silly that makes them laugh and let down their guard.
Roadblock removal: Eliminate assumed constraints. Tell the group there is no limit on costs, or time, or other resources. They can think as big or expensive as their minds allow. Think of other constraints that the group is assuming. Business? Political? Customer? Take the biggest ones you can find and get rid of them. Removing a roadblock might free new directions of ideas that wouldn't have been considered otherwise.
Roadblock introduction: Come up with some ridiculous new constraint to the problem. The goal isn't to make it harder, just to force people's creative muscles to work differently. Suggest that everyone that uses the product will be right handed, or that the website can only work in Arabic (or some other non-Western language). Make the problem as difficult as possible: pretend the budget for the project has to be $50 or less, or that instead of the 2 months to write specifications, there are only 2 days. Don't let people cop-out: push them to work with the problem. This can often shake people up into action, challenged by the insanity of the problem, and protected by the feeling that since it's a ridiculous situation, there are no bad answers. Guaranteed they be stretched creatively, find new ways of thinking about the work, and will be relieved or energized to return to the real constraints.
Post brainstorming assignments
If the goals of the project are around designing something: a website, a software program, a house: then brainstorming has to be fit in around actual design work. What I mean is that brainstorming is a way to amplify and energize creative effort, but it's not the creative work itself. To design a website or an object model requires lots of time spent by smart people sitting alone in cubes or rooms fleshing out ideas. Discussions and conversations are important, but they can only frame the time spent alone working at problems: not replace it.
Brainstorming plays an important role of dividing up designers and engineer's time. Whenever I've led design intensive projects I relied on brainstorming sessions as the way to keep the project moving and to give designers and engineers clear assignments. After each brainstorming meeting everyone would have a task with a deliverable that would be presented at the next brainstorming meeting. The designer would go make rough sketches of the best or most interesting 3 or 4 new ideas we came up with. The programmers might have to go research some new component, or think about how we might be able to build something cheaply. The PM would deal with investigate business, political, or organization issues that came up, and report back. Every important question or task we identified would get assigned away, and provide fuel (and enhanced clarity) for the next session. As the project progressed, these meetings shifted naturally from raw brainstorming, into design discussions, which reflected the progress of the project.
I've worked on teams where during planning phases, we'd meet Monday, Wednesday, and Friday to brainstorm, and work on those assignments in the time between meetings. If we had nothing, we'd cancel. The closer we got to writing specs the less frequent and more tactical the meetings became, until it was clear we didn't need a formalized brainstorming process anymore.
If you get the basic rhythms down, brainstorming can be done in all kinds of situations. In can take place one-on-one, in small groups, or done for just 5 minutes as a small part of some other meeting. It can be used to think through small issues, or to take on big strategic themes. Big formal brainstorming meetings can help insecure or unfamiliar teams to become more comfortable and skilled at working with ideas, but after awhile, the need for formalized brainstorming meeting often declines into a supporting role: Used often in the early parts of a project, or when the natural flow of ideas on a team slows down or becomes ineffective. Sometimes a brainstorming meeting can be used to retrain people in how to approach problem solving or creative thinking,
Solo vs. Group
Good group brainstorming sessions tend to come from people who have some experience exploring and developing ideas on their own, and are enjoy the experience of doing it with others. The teams that get the most out of brainstorming sessions are ones with good culture around ideas, where people feel safe expressing themselves and trust the people that they work with to try to find the best in what they say.
Some people have better instincts, more experience, or derive more please from the process of doing it than others, but we can all do it. Our brains are built to problem solve, and there is no special creative gene that identifies some people as being entirely creative and others as not at all. Having taught design for years, I'm convinced that most people have a lousy judgement on how creative they are, or are not. Some people with fancy design degrees are incredibly not creative, happily and pridefully copying and refining the basic ideas of others, while at the same time, some helpdesk phone specialists and IT managers are capable of interesting and clever new approaches to things. Good managers (and good designers) know this. Everyone should be encouraged to think, and be creative, even on their own time. Teams that do this cultivate stronger creative thinkers, and have more raw material to work with whenever brainstorming meetings are held. There are no pedigrees in thinking: and if you have a good command of the brainstorming process, and a team fluent in how to contribute to it, you can bring outsiders in and have them contribute if they have the aptitude for it no matter what degrees or job titles they have.
What happens later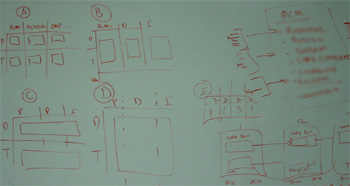 The only way to make use of the inevitable lists that come out of brainstorming meetings is to find a way to refine and narrow them. It should be one person's job to drive this, though he or she should be allowed to involve other people in the process if they like. Take the big list, come up with a simple criteria for evaluating the ideas, and go through them. Get the number down to 3 or 5 or 10, and bring this list back to the next brainstorming discussion to use as the starting point. Ideas can be grouped together to capture the main themes that were discussed. For example all of the ideas that involve improving performance is group A, all the ideas that involve improving changing the programming language used are group B, etc. Use whatever basic groupings make sense, and carefully choose how granular they are. 3 to 5 or so is about right.
Defining criteria to evaluate ideas can be difficult. Best bet is to rely on the goals of the overall project, or goals for your team, and apply them. If you've chosen the right things to brainstorm about, there should be a decision you are facing or problem you need to solve that you hoped brainstorming would help you to understand. If the brainstorming session didn't provide anything useful, it could be you need to refine the question or problem, and try again, or that brainstorming is the wrong forum for it. It might be better to ask people to work on the problem on their own (which might be difficult if they have other responsibilities that you aren't willing or capable of eliminating) or consider brainstorming with a smaller more intimate group. With just 3 or 4 people you can run faster, change directions more easily and go deeper into problems that you can with 8 or 10.
References
If you found this essay on brainstorming useful, you might enjoy how to run a design critique.
The Dance of The Possible: The Mostly Honest, Completely Irreverant, Guide To Creativity – my guidebook to personal creativity.
In Defense of Brainstorming: my rebuttal to a recent article that claims brainstorming doesn't work.
Creative Thinking Hacks: Video: an awesome 20 entertaining minutes jam packed with my best lessons on working with ideas.
The Universal Travler, Don Koberg: This slim little gem of a book is my favorite general reference on brainstorming and creative thinking. Tons of ideas, explanations, concepts, and references to other books on a variety of creative and critical thinking topics. Originally written by architects, but written in the broadest possible way and applicable to any kind of work.
Lateral thinking, Edward De Bono: All of De Bono's work is good (though a bit similiar). This is the book I've refered to most often in my career. It offers some philosophy on how people are creative, as well as exercises and games for developing it and applying it. I don't think the word brainstorm is used in the entire book, but if you're looking for more theory and deeper understanding of what's going on when you're coming up with good ideas, this is a good choice.
Mining group gold, Thomas Kayser: This is a classic book on faclitating groups. If you're looking to improve your faciltiation skills, start here. Focus is on exercises and techniques for working with groups, but the tactics for doing it well comes through.
A whack to the side of the head, Roger von Oech: Oech, like De Bono, tends to retread the same themes in many of his books. This is the only one of his that I made it all the way through (since it was the first one of his that I tried to read). Very light, almost fun, and easy to read. More about thinking creatively on your own than in groups.
[Published March 12, 2007]