Published March 21, 2006
What things in your life demand undivided attention? Whatever they are, I claim they define your life more than anything else you do. Your obituary will not list the hours you fought off boring meetings or ignored your friends by reading forgettable blurbs about forgettable things on your cell phone or laptop. Instead it's the intimate, deep moments that refuse division that matter. The wise and happy throughout history have found ways to avoid situations that demand divided attention. They convert the fractured experience into the meaningful (and perhaps magical) by investing their attention wisely.
There isn't a single great work in the history of civilization, no novel, symphony, film, or song that was completed as a 1/5th time-slice between e-mail, IM, cellphones and television. Despite the modern drive to consume things made by others, time will always be our most finite resource and it crumbles when split into tiny little pieces. And it's up to us to choose how much of life is spent passively (consuming, waiting, watching) vs. actively (thinking, debating, feeling, doing, making). Whatever we choose, when we die, we have no one to blame but ourselves for where our time, and attention, went.
Free money and sex if you read this now! (Laying the attention trap)
We're told our senses bring us the world, but the opposite is more accurate: our senses filter the world down to what we've needed to survive. Our eyes see only a fraction of the kinds of light around us (e.g. ultraviolet, infra-red). We can only see 140 degrees of 360 meaning we see less than 50% of what is going on at any time around our bodies. The human range of hearing is comically bad compared to most house pets and insects. In short, our senses are designed to focus our attention on what matters for our survival. Our senses ignore many times more data than they bring to our brains. It's knowing what to ignore that makes us successful, not how many volumes of data we can consume at the same time. Ask any successful athlete, performer, or writer about how they consistently perform at high levels and they'll tell you about focus, and the discipline of centering their attention on what they're doing. They practice and drill so that basic tasks become so familiar that they don't have to think about them anymore, focusing instead on the details most of us miss.
The challenge is that in the last 50 years we've designed things purposefully to attract attention. TV commercials, websites and advertisements of all kinds are machines that, by design, take advantage of our limited means of perception. We know that red, fast, sexy, blinking things play on our reptilian brains and few can resist granting attention to them. This is an old tactic, as flowers, fruits and plants have played similar games for eons, just not on the same scale. No flower has ever spent millions researching strategies for advertisements, training a species over time to eat when they're not hungry, or to compulsively seek information for information sake, yet our man-made attractions do this every day. In a pre-historic age, creatures competed for survival. In an information age, we, as corporations and people, compete for each others attention. We're supposed to be in a golden age of leisure time since most hard labor is done for us, but somehow we've fallen into a place where time gained from innovations falls away like sand between our hands, phones and keyboards.
The Law of lost attention
The danger of misguided attention is this: how we spend our attention changes the value of what we spend it on. If you participate in potentially intimate activities, like sports, conversation, or non-casual sex (meaning both emotionally and physically intimate), treating them with split attention, will inevitably make them non-intimate experiences. Like a flower that doesn't get enough water, an intimate experience can only grow to the depth and quality of the time given to it. If you only spend a fast food amount of attention, you will never have a 5 star dining experience (See Slow food movement). The same applies to everything: relationships, talents, experiences. Fast food (and sex) can be fun, but they're unlikely to be fulfilling if that's all you have. They work best as counterpoints to deeper, slower, more wonderfully intimate things.
Law of lost attention: The value of something you spend attention on, is dependent on how much attention you spend on it.
Whenever someone is lost in waves of e-mail and information, they're often oblivious to the deepest tragedy of their time. It's not the stress of dealing with so many requests and obligations (as real and challenging as that stress might be). It's that somewhere in the wash of interactions and split attentions is the missed possibility they're looking for: Meaning. Depth of experience. Connection. To quote Pirsig, "The truth knocks on the door and we say, 'Go away. I'm looking for the truth'". In the race to clean out inboxes and scratch items off the to-do list, we miss chances to find the thing we've created the inbox and to-do list for. Like an American tourist in Europe racing from site to site with barely a moment to take a picture or talk to someone not on their tour bus, we're trapped in a quantity mentality, despite our quality based desires.
Reclaiming attention
We are information insecure. The compulsion for more is driven by lack of confidence in what we already have. Out of a secret kind of fear we are convinced that the next e-mail or link is better than the one we're reading now. The result is a private rat race: what does it mean to stay on top of information that doesn't satisfy?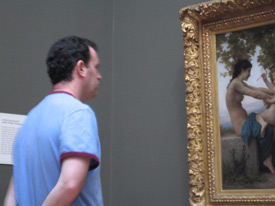 The unspoken dream is to be attention rich. To have enough attention that at any time we're comfortable digging in to something that we connect with. But if we're always spending our attention as if it has no value, and we're attention poor, we don't have enough attention to spend even when we find the things we're looking for.
It's true that the hunt and intensity of multitasking can be fun – there are thrills in chasing things, physical or virtual, but most evidence shows we perform worse at all things multitasked. Despite how it feels, it appears our minds don't work best when split this way. And given the law of lost attention, we may be multi-tasking over the very experiences we're multi-tasking to find.
Reclaiming attention starts with a leap of faith in believing the following sentence: you do not need more than what you have. When you survive that leap, which you will, it's easy to convince yourself that you need less of the attention consuming things in your life than you currently have. You'll soon find that every important ambition for your life is best served by treating your attention with the conservation it deserves. Instead of splitting your mind to keep busy, move your body to somewhere worthy of all the attention you have.
The attention challenge
Here's a test to help sort how your attention is working for you. Make a list of all the things you read, check, skim, or browse every day (Include every gadget or device you use once a day). Make a second list of why you're spending your attention on them. What are you trying to achieve or feel? Rank the first list based on the second. Then cut the first list in half or by one-third and see what happens. If you survive, leave a comment and let me know how it went.
See also the excellent wikipedia entry on attention.
Watch the 5 minute live lecture on Attention and Sex
[First published March 21, 2006]