Interactionary and design sports
INTERACTIONARY – Sports for design training and team building
By Scott Berkun, Updated April 2003 (created April 2000)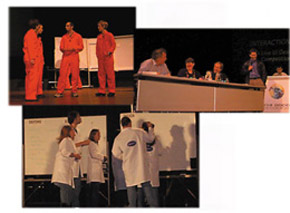 This is an experiment in design education.The idea is to explode the process of design by forcing insane time constraints, and asking teams of designers to work together in front of a live audience. From what we've seen, it forces the discussion of design process, teamwork, and organization, and asks important questions about how designers do what they do. Below are summaries of previous events, and information about how to organize your own Interactionary.
Reports from previous interactionary events:
April 2000 –Report from CHI 2000's original competition. With teams from Sapient, Razorfish, IBM, and University of Malm.
April 2001 –Report from CHI 2001's Interactionary event. With teams from IBM, Cooper Design, and Trilogy as participants. Trumpets included.
July 2001 –SIGCHI.NL's 2001 's Interactionary
Aug. 2001 – AM+A (Aaron Marcus & Associates) Interactionary(300k pdf)
April 2002 – CHI 2002, Extended Interactionary
April 2003 – CHI 2003
(you could appear here – Contact me if you're planning to do one)
Supporting material:
Interactionary FAQ: What is this? How can you mix sports and interaction design training? Why is it worth doing?
Interactionary Guidebook – How to set up, run, and enjoy an interactionary competition