The book: Making Things Happen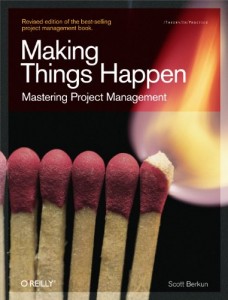 Making Things Happen is the classic bestseller on managing and leading project teams, known for it's honest, funny and insightful approach to what is often a deadly boring subject. Based on Berkun's nine years of experience as a program manager for Microsoft's biggest projects, Berkun explains to technical and laypeople alike what it takes to lead critical projects from start to finish. Buy it on Amazon.com.
Book features include:
16 chapters on the critical and common challenges of leading projects and managing teams, over 50 clever diagrams, entertaining photography, war stories of success and failure, snarky humor, executive summaries, challenging exercises, discussion guide, annotated bibliography, extensive footnotes and references.
Reviews for the first edition:

"I've been working professionally as a software engineer for several years and I learned more in the first 100 pages of this book than from my years of experience in the industry."
-Dan Herisham, Blogcritics.org
"I've been reading a new book from O'Reilly which, despite my intense aversion to books of this type, outshines its class." – Slashdot.org

"As someone who alternatively manages a worldwide team of open source developers and works in a much smaller role inside a large corporation, I found Berkun's practical, intelligent, and multi-disciplined approach to the art and science of getting things done in groups immediately applicable and extremely effective. Highly recommended for CEOs, project managers, and hackers alike."
– Matt Mullenweg, Founder and lead developer, WordPress.org
"The Art of Project Management (O'Reilly), is full of practical tools and real experience that will help you succeed with your projects.. it's refreshing to see a book on project management that spends as much time on human factors…This book is a candid and honest piece of work."
– MSDN Magazine
"I've finally managed to finish reading Scott Berkun's The Art of Project Management. My review in two words: Buy it."
-Steve Makofsky, Furrygoat.com, June 2005
"While the book is well-written and structured, it feels like a nice long talk with someone who is being completely honest about the way things work. It's the talk that you have with someone that shapes your whole professional life. The moment when you figure out that you can do a good job, treat people with respect, and not waste too much time and effort on things that won't work. I'm going to keep the book close to my side and refer to it often."
-Chris Campbell, bitdepth.org, June 2005
"How I managed so long without this book baffles the mind."
– Richard Stoakley, Group Program Manager, Microsoft Corporation
"…if your job includes any kind of project management especially in the world of web development, you might want to have a look at this. The skills Berkun encourages go beyond one team member's role, though–communicating well, meeting deadlines, and moving your piece of the project forward are the skills that make anyone the team's MVP."
-Merlin Mann, 43 Folders, May 2005
"The Art of Project Management covers it all from practical methods for making sure work gets done right and on time, to the mind set that can make you a great leader motivating your team to do their best. Reading this was like reading the blueprint for how the best projects are managed at Microsoft. I wish we always put these lessons into action! Berkun made me chuckle, made me think, and best-of-all, after just a few hours of reading, I found myself thinking of many ways I could make my team more effective and my products better."
– Joe Belfiore, General Manager, e-home division, Microsoft Corporation
"A successful software application is a mixture of programming, designing, scheduling, marketing, testing, some black magic, and a lot of luck. Engineers see it as a technical problem; designers see it as a usability problem; marketers see it as a specifications problem; but nobody sees it as 100% their problem. This book is written for the people who take on the burden of making the whole problem their problem"
– Steve Capps, CEO of onedoto.com and Former Apple fellow
" If you're a team member, project manager, or even a non-technical stakeholder, Scott offers dozens of practical tools and techniques you can use, and questions you can ask, to ensure your projects succeed."
– Bill Bliss, Senior VP Of product and customer experience, expedia.com
"Berkun has written a fast paced, jargon-free and witty guide. It's a great introduction to the discipline, and seasoned managers will benefit from Berkun's perspectives."
– Joe Mirza, Director, CNET Networks (Cnet.com)
"…Its strengths are its basis in experience; the inclusion of many illustrative stories; and the thoughtful sections on specs, making good decisions, and politics…an excellent resource for someone trying to make sense of project management."
– Kent Beck, Author of "Embrace change: Extreme programming explained"
"Of all the many books on project management, 'The art of project management' is by far the most easy to read and entertaining. Scott Berkun's insights, knowledge and sense of humor delivers an exceptional book that no project manager can do without."
– Michael Viola, Senior Consultant, IBM
"I wish I had this book when I started managing projects. Scott shows us the heart and soul of project management: planning the project, keeping the momentum going, developing a solid relationship with the team, working in an organization. All of these are illustrated with plenty of great examples — both successes and failures — from his own career as a project manager at Microsoft."
– Andrew Stellman, Stellman-Greene consulting
"As a software engineer, the observations in 'The Art of Project Management' resonated deeply with my own experiences. Scott's book gave me a new appreciation for the difficulty and risks, and the tremendous rewards of good project management. This book provides the knowledge and the incentive to become a better project contributor whether you are managing or being managed. Any stakeholder in a software project will benefit from reading this book."
– Martin Frankel, Senior Software Engineer, TiVo Inc.
"The Art Of Project Management is unique because of its human approach. Berkun understands that people are at the heart of projects, and this makes the book both highly readable and instantly useful."
– Rich Grudman, IT Project Manager
"This book should be required reading for anyone involved with development, from a single programmer in a small company to a vice-president of a large corporation. "
– Samuel Greenfield, Manager of System Development, Sports Illustrated Magazine
"Scott Berkun delivers an extremely readable book on the pitfalls to avoid and the techniques to pursue in software program management. He writes with obvious real-world experience and demystifies everything from marketing's requirements to bug triage in a way that is useful to all members of the development team. "
– Chad McDaniel, Lead software developer
"In the Art of Project Management, Scott draws from not only his personal experience leading recent high-profile projects at Microsoft, but also lessons from many other fields. Like the broad foundation of the authors insights, this book applies to a wide range of situations, whether in developing software, running a business or any organization."
– E. Castedo Ellerman, Vice President, Bear Stearns & Co.
" This book is useful to anyone involved in ongoing projects, regardless of whether they have an official leadership role. I'm a designer, not a project manager, and I found more practical information on how to get work done in a software company than any other book I've read."
– Chad Thornton, Interaction Designer, Google Inc.
In "The Art of Project Management" Scott combines his veteran experience inside the world's most famous software company with his unique and empathetic understanding of human behavior. The result is an amazingly practical and proven set of tools, tactics, and techniques for navigating the thorny waters of project management, people management, and software development. Written in the clear, concise, and often comedic voice his readers have come to expect, "The Art of Project Management" is an unflinching guide to anyone managing, influencing, or participating in the process of software development.
– Bob Baxley, Director of Design, Yahoo! Search
Available now at: Barnes & Nobles, Amazon.com