Lessons from FOO Camp '07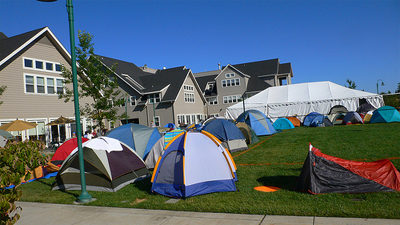 (Photo by Nobihaya)
No matter what my expectations are for O'Reilly's annual FOO camp, an intense social/geek/intellectual weekend run by my publisher, O'Reilly Media, they're always surpassed in amazing ways. Unlike any other conference type event, I leave with a head full of ideas to chase and renewed passion for hunting them down.
I waited a week to write something up to see what stood out after things had time to settle. This year my thoughts were about what other events might learn from the success of FOO – here's my short list (including some hard to avoid for narrative clarity name-droppings):
Informality breeds conversation. There are some amazing and famous people running around at FOO. Founder of this, inventor of that – people I'd normally avoid in ego-fear or fanboy embarrassment. But having everyone camp outdoors with no "invited speakers" or "keynotes" neutralizes pretensions. Egos are left at home and everyone is willing to share, chat, laugh and listen. FOO is full of bullshit neutralizers and that enables fantastic experiences.
Level playing fields are more fun. I did a talk on my book the Myths of Innovation and noticed Ray Ozzie and other notables in the audience. Now at any normal conference I'd be (happily) in the seats, listening to them. But because anyone can do a session the dynamic is entirely non-hierarchical and self-motivated. New conversations happen. Experiments ensue. Comical mistakes are made. This is the spirit of unconferences: you never know who will show up, or what will happen, but the bet is if you get out of people's way they'll sort it out themselves. People go where they aren't supposed to and discover things. It forces opinions and new conversations to rise which is what most organizers claim their conferences are for.
Soft skills rule. I went to two sessions on amazing topics, with awesome, world class level people in the room, but surprise! They sucked anyway. Why? The self-selected session organizers failed to work the room – they let rat-hole debates go on forever, chatterboxes hold the floor too long, or held the group captive with their extended rambles. The lesson: despite all the geniuses in a room, once you're a group, it's communication, more than intellectual talent, that make things work. FOO averages much higher quality sessions than most conferences, but Unconferences and regular conferences hinge on rewarding people with facilitation and public speaking skills. But sadly it's still not cool to reward soft skills. I think every unconference should offer optional, but recommended, training on running good sessions. Regular conferences are just as bad: I don't know of one that offers training, or mentoring, for speakers.
Memorable moments:
Erin McKean's session on making up words. Not sure my editors would have endorsed her enthusiasm for me, and everyone, making up words, but I loved it.
How to eat like a caveman. Eric Wilhelm, of Squid Labs fame, co-ran this unexpectedly memorable session on hunter/gatherer diets, and the problems with modern food. This was the perfect mixture of lecture, Q&A, recommendations, stories and theory.
Meeting dozens of cool people including Gareth Branwyn, Dale Dougherty (Editor of Make magazine), Dylan Field (he's in high school!), Mitch Kapor and Bill Gurstelle (Mr. Backyard Ballistics).
On Sara Peyton's prompting, handing Google founder Larry Paige a copy of the Myths of Innovation, and asking, entirely sarcastically, if he knew anything about innovation. His response, with a smile "Innovation? What's that?".
It was a thrill to be there again and I hope to be invited back.
Background on FOO: