Luddite news: My new cell phone is…
I've owned one cell phone in my life – This Motorola something or other. I bought it in 2003 when I quit my job. Back then, I bought it mostly because my wife got the same one – she's smart, and on average copying what she does works out well.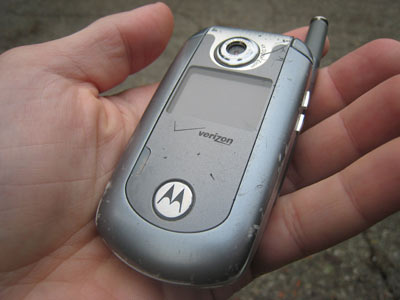 When the recharge jack died and the phone overheated after a long plane trip, it was time to shop. I knew I needed the following things in a new phone:
Dead simple ease of use for my 75% usage: calling and talking to people.
High durability. I never want to worry about dropping something I carry in pocket. Look at the scars on the above photo: that's the mark of a well used, well built piece of technology.
Any fancy features never get in my way.
I spent 4 months looking at phones in person and developed the following simple test, knowing it represented 90% of what I'd use one of these things for:
Make a phone call
Send a text message
Add a contact
Type in a url, view it and add it as a bookmark
Look up the map for an address
Add an appointment
Sync to my desktop PC
If any of the above took more than 30 seconds to figure out, or seemed like it would take 30 seconds to figure out every time, I gave the phone a failing grade. I looked at dozens of phones and 95% of them failed this simple test for me.
The only phone that passed, was the one I bought last month – The Palm Centro: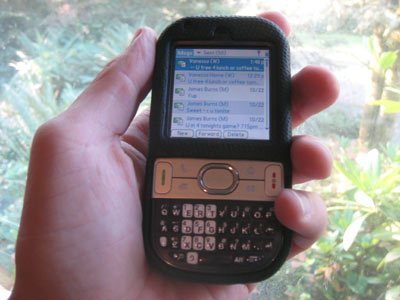 I've had the phone nearly a month and I've been very happy. It's slightly bigger than the Motorola, but still fits easily in my jeans pocket. The phone doesn't have some of the latest super cool features and whatnot, but I really do not care – for what I actually do, its been great. Simple, simple, simple, with many thoughtful UI design elements. Hopefully the phone will last me, like the last one, another five years. While it lacks GPS, there's a google maps update that gives you 300 yard accuracy by pinging cell phone towers, good enough for every situation I've been in so far.
Many friends point me to the Blackberry, but even the latest models were larger than the Centro, much harder to use, and their UI was downright ugly. The Palm UI, from fonts to layouts, has a superior level of care. As much as I wanted to like the Blackberry, by my standard above it wasn't close.
I did look at the Apple i-phone, and while it looks great and has some excellent design aspects, it totally failed #2 above. I'd scratch that screen in a day, and drop the phone in a week, and after killing two apple nano i-pods (call me the screen destroyer), I wasn't convinced it would survive my travels. I also had problems with the touchscreen keyboard: I just don't like typing on touch screens (YMMV). It seemed designed well, but Centro's keyboard, despite all my instincts against mini-keyboards, worked super well even with my extra-large hands.
(See my follow review months later)