Making things happen – the cover & more
The book is on the home stretch – final pass at editing is almost wrapped up and off to the printer. Here's the cover for the new edition – looks sharp! WooHoo! Can't wait for this to be out there and to have the book back in print.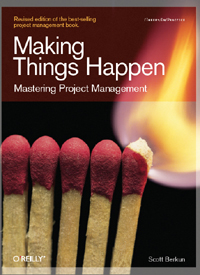 The update includes:
Much tighter writing in all chapters: it's a lean, crisp read.
Many corrections, figure improvements, and improved references.
120 exercises to help you apply and practice what you've learned.
A discussion guide for forming reading groups and getting value from them.
You may notice that the new chapter I promised isn't listed. It didn't make the book for the following reason: it wasn't that good. It didn't feel right to cram it in there, and have people think I stuck it in just to draw more sales. Instead I plan to finish up the chapter and post it online, for free.
Stay tuned – As soon as I know when it will be available in physical stores, I'll let you know.
You can pre-order the book now.