The Lefferts' law of management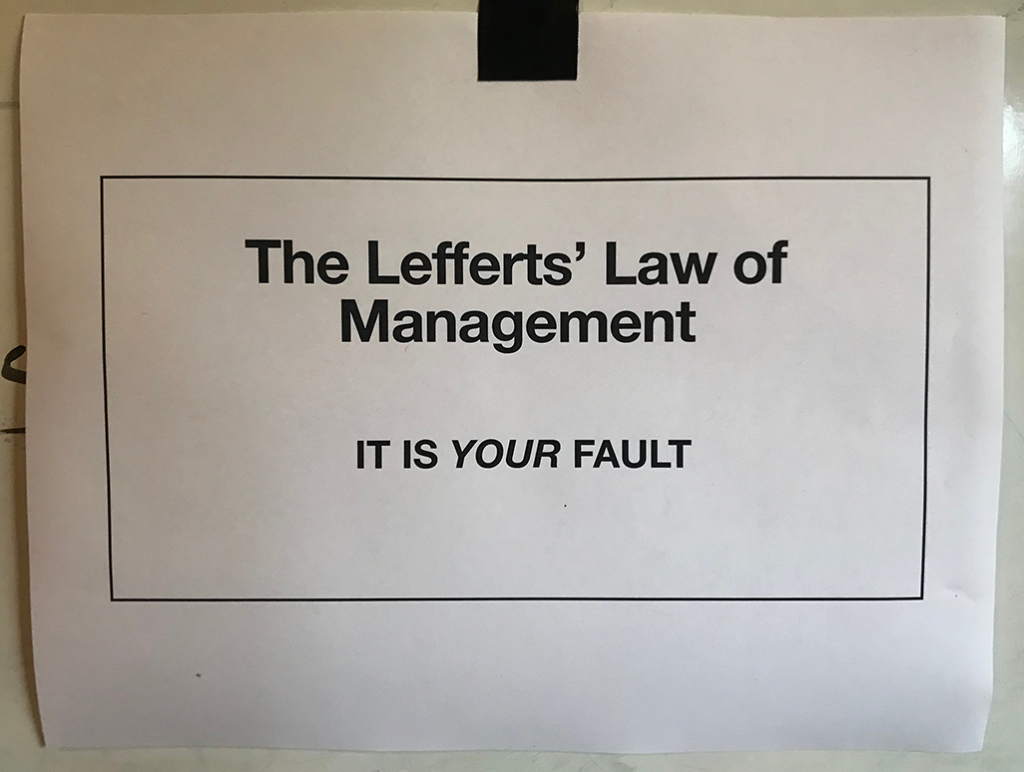 My friend Rob Lefferts, VP at Microsoft, offers this gem of advice:
It is your fault.
I call this the Lefferts' law of management. The last thing you should ever do is blame your own team. You have more power, and are paid more, than anyone else. If something is wrong, it is probably because of you. There are dozens of excuses you can use instead that point the blame elsewhere but if you want to be a good manager don't use them.
If someone is behind schedule, communicates poorly, or made a bad decision, who coached them, or failed to? You. If people are arguing and don't trust each other, who shaped the culture or failed to create shared goals? You. If you feel you must micromanage to keep quality high, that's on you too for not hiring better or coaching them into growth. Whatever the thing is that isn't going well, you are the primary person that both caused it and can do something about it. Even if you inherited a problem, it is your job to manage it. If you're not sure what to do, it's your job to admit you are over your head and ask for advice or step away from being the boss.
This law should be the primary working assumption in trying to understand a situation. Certainly there will be cases where someone else is at fault, but start your diagnosis by assuming otherwise.
If you are the executive, the boss, the manager or in some cases the leader, you should tend to absorb blame for what's going on, freeing people to actually solve problems instead of pointing fingers. Be the fall guy if needed for your own boss or partners. If people see you take bullets for them, soon they'll be taking some for you, or prevent the need for anyone to at all.
Being passionately accountable creates a shield for others and makes it safer for them to invest more personal responsibility in their work. When they do, things can only get better.
When in doubt, good managers assume anything important that's not going well is their fault and do something about it.
[edited lightly 9-23-2016, 9-24-2020]