Help me find photos for the new book
The new book, Confessions of a public speaker, is wrapping up and one of the fun challenges remaining is figuring out what images to use for chapter openers.
It's a fun, but slow, task and I figured I'd see what would happen if I opened this up. Can you crowdsource curation? Lets find out.
Chapter openers are the photos that help introduce each chapter or section of the book. Here is an example from The Myths of Innovation: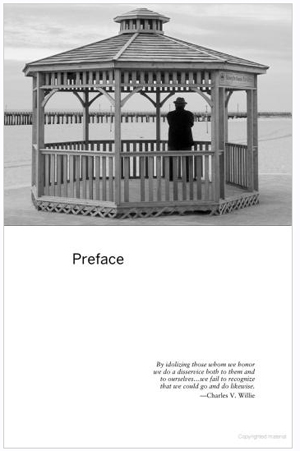 For the new book, the openers either need to be riffs vaguely related to public speaking, or something that plays off, or against, the chapter title.
It could be a teacher in front of a class. Or a guided tour of an art museum in progress. Maybe a great photo of a microphone, a lectern or an unusual lecture hall. It could be unexpected venues or places for lectures  like this photo below (taken by Steve Rhodes):
The tentative chapter titles for Confessions of a Public Speaker are:
Chapter 1 – I can't see you naked
Chapter 2 – Attack of the Butterflies
Chapter 3 – The wonders of $30,000 an hour
Chapter 4 – How to work a tough room
Chapter 5 – Don't eat the microphone
Chapter 6 – The science of not boring people
Chapter 7 – Lessons from my 15 minutes of fame
Chapter 8 – Things people say
Chapter 9 – The clutch is your friend
Chapter 10 – Confessions of a public speaker
How you can help:
Spend some time searching flickr or other photography sites.
If you're a photographer, check your library to see what might fit the bill
If you're a bored photographer, get out there and take some photos for me
Other themes that can work include: stage-fright, making mistakes, tough rooms, people sleeping in class, spotlights, learning and teaching.
I can't offer to pay for photographs, but I can promise to give a copy of the book to anyone who finds a photo I end up using, as well as to the photographer who took it. And of course the photo will be credited it the book.
If you find candidates, leave them in the comments, preferably inline (set width to be <400).
Let the experiment begin!