What my office looks like right now
In a desperate fit of end of year holiday boredom, as I'm self employed and don't quite long for these weeks off as I used to, I decided it's time to fix up my office.
If I'm actively writing a book, over time my research methods create piles of books all over the place. I did heavy research for Confessions, and there were papers, books, journals, and articles just about everywhere.
When a book is done, there are several weeks of promotion, and it's only now, about 8 weeks in, that I finally get around to fixing up the disaster area that is my office.
In the photo below, I'm 30% of the way in to sorting things out, and things are complete chaos. Hopefully I'll post another photo this week with everything nice and fixed up.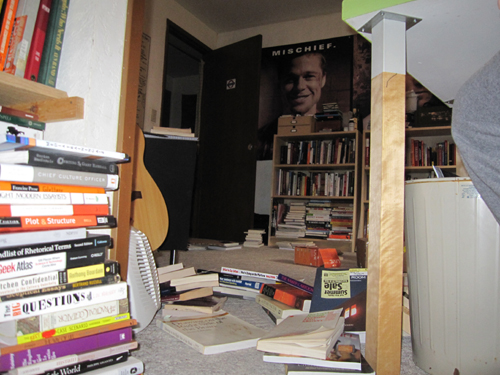 That's my knee on the right, and my desk above it.
I dare you to post a picture of what your desk/office looks like right now.