When visualizations go wrong
Sometimes information visualization goes wrong. We quickly confuse whizzy fun visuals with using visuals to make explaining things easier. Here's a recent example.
Michael VanDaniker used the open source data-viz toolkit Axiis, grabbed the data from w3schools.com for browsershare, and made the chart below. He explains in nice detail how he did it. To be fair, I suspect his goal was just to show off the toolkit, not necessarily to make a useful or usable chart. Much of his blog is well written posts about how to use various visualization tools, with code samples.
But the web & twitter has picked up this sample of his work, and has called it 'wonderful', 'fascinating' and 'fantastic' which in any sense of practical value, it isn't.
If you want to play with the chart and decide for yourself first, go here.
Here's a snap of the chart: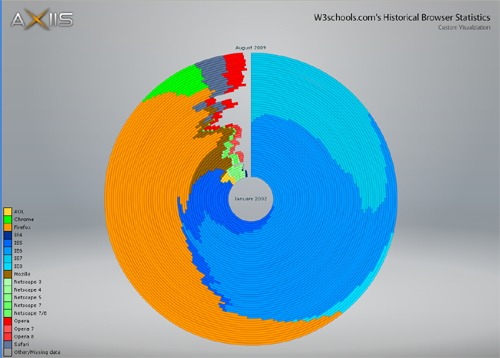 So far so good. This definitely looks cool, no doubt. It even looks like the Firefox logo. But looking cool and being useful are very different things.
If you move your mouse over any block, you get a pop-up that explains what the hell you're looking at.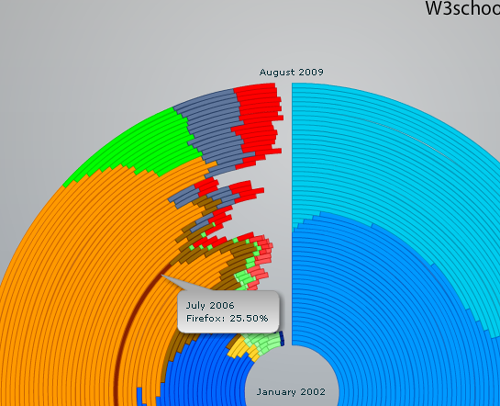 Which is also fun and cool, especially when you fly your mouse around really fast, and see each unit flash, bubble up, and highlight. But after five seconds, it's hard to know how each unit of info relates to the ones near it. It's quite disorienting to wander around in these circles. If you try to use this visualization for anything real, it falls apart quickly.
The first missing piece of design knowledge is that the primary axis in data is (often) time, and time is easiest to understand linearly. Showing time in spheres, cubes, or concentric circles, while novel, adds little value, and makes time hard to understand. If you don't get the direction the data is moving in, it's very hard to see patterns or ask good questions.
The second problem is curves distort our perception.