#1 on Kindle: Confessions of a Public Speaker
Confessions of a Public Speaker is currently the top book on Public Speaking on Kindle.  With 98 reviews and a near 5 star average, it's a nice surprise to see it still doing well.  Thanks to everyone who's bought a copy.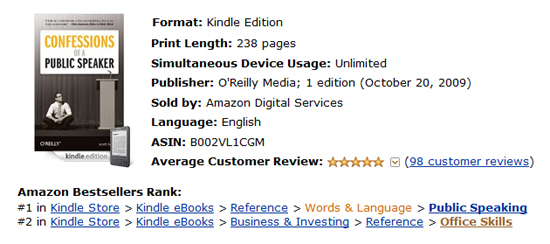 You can gift a kindle book here, or buy / gift the print edition or buy the kindle edition for yourself here.
And you can read two free excerpts (Attack of the Butterflies, or $30,000 an hour) if you want a sample first.
If you've read the book and haven't reviewed it on amazon, please do. It helps more than you know.