Being Geek: An interview with Michael Lopp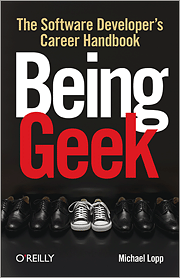 I had the chance to interview Michael Lopp, of RandsinRepose fame, about his new book, Being Geek. The book, like much of his writing, takes an honest approach to thinking about careers and life in the tech world, and he knows what's talking about, having done stints at Apple, Netscape, and Symantec. Unlike many bloggers, he's dedicated to the craft of writing and it shows in his work.
SB: Your latest book, Being Geek, is described as a career handbook, yet it's way smarter and funnier than most books like this I've seen. What made you decide to write about career development, instead of a book about design or technology?
I think engineers have a weak spot when it comes to career development. I know I do. I'd much rather tinker with Python all morning that reverse engineer that cryptic off-the-cuff statement my boss made this morning about our project and how that statement might affect my work for the next three months.
There are endless strange situations we end up in on a daily basis that might affect our career and I wanted to sit down and document as many of those scenarios as I could in a way that is approachable to the engineer, to the geek.
You've mentioned you want people to feel they 'own their own career'. Why do you think the majority of people don't believe, or behave, in line with this sense of personal ownership?
You've spent a lot of life looking up to people who you believe are looking out for you. It was your parents and then it was your teachers and professors and finally it's your boss. I think the idea of relying on your boss to move your career forward is a risky one. Sure, maybe he's great and experienced, but his incentives are based on optimizing for this job and this job isn't your career.
Does your boss know you want to be an architect? Do they know that all you ever wanted to do was found a start-up? That you want to write a bookshelf full of books? You probably talked about this at your annual performance review, but is he keeping that in mind as the myriad of decisions regarding you cross his desk? Maybe. Or perhaps he's optimizing for the now… for his incentives rather than yours.
One of my favorite things about your work is the notion things are messier than we presume them to be. Do you think technologists are better or worse at dealing with the chaos of the real world than the rest of us?
We're worse. A lot of the book is based on the idea that geeks are system thinkers which is a result of spending a lot of our careers surrounded by the blissful comfort of predictable machines. These tools have given us a profession and they define our success. Unfortunately, we project this sense of order outward. We believe the world is a rational place that is defined by inviolable rules… which it isn't.
If you assume that much of this real world chaos is caused by people, technologists are in even worse shape because the solitary internal work of the mind does not traditionally expose us to random people in the wild. When one of these strange people show up at our desk with their odd corporate dialect and hidden agenda, we're… a little slow.
I know you take writing seriously, as well as design. Do you find the process of writing well similar to the process of designing well? Is it rewarding for similar reasons?
There are two big intersections between designing well and writing well. First, before you start, you want to have just enough of a plan regarding what you're going to build to give you a basic structure and a general direction, but not so much of a plan that you constrain yourself. You leave just enough room in your plan to improvise and to explore the unexpected because that is where I believe innovation comes from. One of my all time favorite pieces of writing was when I gave myself random permission to lose my shit researching gel pens and that leads me to the other intersection.
It's cliché, but whether your designing or writing, you obsess over the details until your eyes bleed. I'm still staring at the my answer to your previous question and wondering if "solitary internal work of mind" says what I'm trying to say. It's close, but it's not perfect. I know I can keep staring at it until it's perfect, but I also know that I can bring other people in to sweat the details with me. Design or writing, the rule is: all ideas improve with additional eyeballs.
What is rewarding about both approaches is I believe whoever is looking at your design or reading your writing can see and feel all of your consideration.
——————————–
You can read a free sample of the book here (PDF) or go straight to amazon.