Book review: The checklist manifesto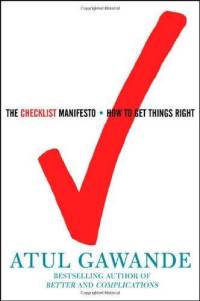 Gawande's first effort, Complications is a great book. He's honest about the limitations of surgeons in a way few doctors are: it's fantastic, doubly so if you deal with doctors on a regular basis. His second book, Better, was ironically not as strong, but a worthy read on how a thoughtful surgeon (Gawande) thinks about proficiency and skill development.
This book, the Checklist Manifesto, is harder to recommend. First, it's not a manifesto, it's too thin, long and even-tempered to hit that mark. Second, it falls into the Dan Airley (Predictably Irrational) trap of insisting on telling the author's personal stories of learning, even when they're repetitive and predictable: it's clear through all 100 pages of Atwande's conversion to the wonders of checklists in the first half of the book that he will, in fact, be converted.
The prize in the crackerjack box that is this book, the part that made the book worthwhile, is Gawande's interview with Dan Boorman, an expert at Boeing on the checklists pilots use in emergencies. He makes clear why most checklists in our lives earn a bad reputation:
"There are good checklists and bad… bad checklists are vague and imprecise. They are too long; they are hard to use, and they are impractical. They are made by desk jockeys with no awareness of the situations in which they are to be deployed. They treat the people using the tools as dumb and try to spell out every single step. They turn people's brains off rather than turn them on."
But Boorman continues and offers a design minded view of what a good checklist is:
"Good checklists, on the other hand, are precise. They are efficient, to the point and easy to use even in the most difficult situations. They do not try to spell out everything  – a checklist cannot fly a plane. Instead they provide reminders of only the most critical and important steps – the ones that even the highly skilled professionals could miss. Good checklists are, above all, practical."
It made me long for a book about Boorman and his experiences in the world trying to teach people who tend to make the former, to make the later. There's a short interview with Boorman here (PDF).
Gawande is an excellent writer in every sense of the word. I enjoy his pieces in The New Yorker and elsewhere. But this book would have been better suited at actual manifesto length (50-100 pages) or structured less on Gawande and more on his subject. Unlike medicine where his insider observations fascinate, here on more ordinary subjects his personal narrative isn't sufficient to power an entire book.