Contest: Most worn out book wins $100 prize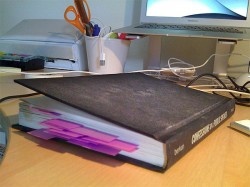 There is something depressing about seeing one of my books high on an office shelf, in perfect condition, covered in a layer of dust . I'm thrilled they were purchased of course, but there's sadness there too.
Some people keep their favorite books in great condition, and that's awesome. It's an act of great respect.
But I admit I love seeing one of books all dogeared, with tabs, post-it notes, or even coffee-stains all over the place (Photo on right by Mattias). That's a book that has lived and has spent long hours in use. It's been lent to many people, traveled in buses and planes, and read by many sets of eyes.
In this spirit, I'm running a little contest.
The person will the most worn out, well used copy of one of my books wins:
$100 (Amazon Gift certificate)
A signed copy of the latest edition of that book (or other book of mine of your choice)
To enter:
Leave a comment including a picture of your worn out book inline
Include a link to your photo  (inline images isn't working at the moment)
Rules:
It has to be a book I wrote
You can't go beat the crap out of an unused book simply to win
Folded/marked/tabed/post-it noted pages count as much as wear
Really, I'd just like to see how my books are being used. Photos of my books on your shelves are welcome too.
Let's see what you got!