Do sci-fi movies impact the future?
Today I was reading yet another article about how a movie, in this case Iron Man 2, shows a possible future for computing. I think its kind of silly to put much faith in devices designed for movies, but that's not a surprise since I think the future of UI will be boring.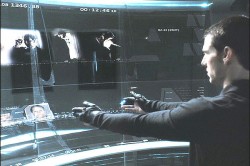 My point is simply that filmmakers use technological ideas in movies to serve narrative and stylistic purposes. They are designed for how cool they seem to watch someone else use, rather than for actual use. Things that are designed to be used by actual people 100 times a day tend to be boring, because they should be comfortable, simple and natural and not cause repetitive stress injuries. But that makes for boring style, which filmmakers rarely want. Flying cars, jet packs, Virtual Reality headsets, AI and voice recognition, all sci-fi staples for years, have little practical market value, despite how cool it is to watch characters in movies use these things.
But in an attempt to call BS on myself, I wondered this:  Have design or software ideas from sci-fi movies ever become successful real products?
I'm not saying movies haven't inspired people. Sure they have. Star Wars inspired me to draw, and play with lego, and think about all sorts of things. But I never actually made something I saw in Star Wars into a successful real product in the real world. And given the lack of working x-wing fighters and light sabers I've seen in the last 30 years, I'm assuming no one else has either. And that's my hypothesis. Not that sci-fi movies don't have a purpose, just that they're lousy at predicting the future of anything, much less product design.
Even if there are some (star trek communicators = cell phones come to mind) the odds seem so bad: sci-fi movies are awful predictors. That's my bet, but prove me wrong.
The question: Can you think of any specific design / UI / software / computer thing that was shown in a movie, and later invented for real, and became successful? Lets make a list.