Finger on nose: making fast group decisions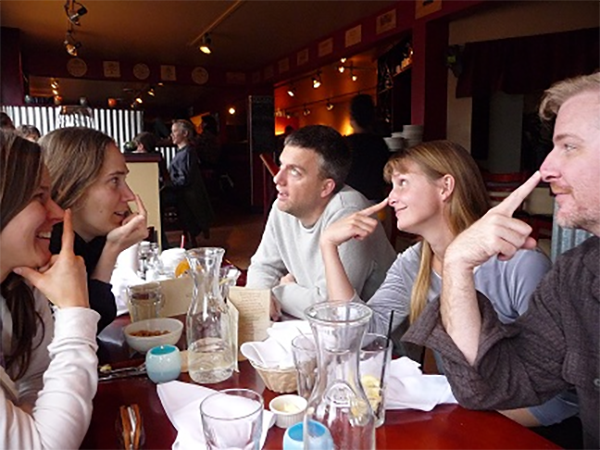 Often it doesn't matter what you decide, as long as you decide quickly and do something. Would you stand in front of train debating if you should jump left or right? Of course not. But often we hesitate in the face of similarly meaningless decisions for no good reason.
Life is filled with little situations where someone has to do some annoying job or another, but as no one wants to do it, long debates ensue over who should do it and why. Examples include picking up a bar tab, putting out the trash, or a thousand other little things.
My favorite solution to these decisions is what's called Finger on Nose, Not It or Nose Goes.  The rules are simple.
Whenever there is a task no one wants to do, the following rules apply:
At any time, anyone can put their finger on their own nose.
This signals everyone paying attention to do the same.
The last person to put their finger on their nose loses, and gets assigned the task.
It's very simple and works fast.
While the decision is being discussed, quietly put your finger on your own nose and look at a friend. They'll copy you, others will follow, and soon the person paying least attention is the last one, and gets stuck with whatever it is.
By this point everyone is usually laughing, increasing the odds the work at hand will actually be done. And next time, the loser of this round will be first to start the game to get revenge, ensuing the tradition continues.
I don't know where this game started – but I learned it eons ago and I've taught it to many people. If you've heard of it before, or know the backstory, leave a comment. The web provided The Nose Goes rules page, The nose goes facebook group, and the nose variant of the card game Kings)
Next time you have a decision to make about who does something, give it a try.