Ground Zero and the Mosque
I grew up in Queens, NYC, and I know Manhattan pretty well. I've also been to the WTC area several times over the last decade.  The recent headline news about building a mosque "at" Ground Zero caught my attention and I've followed along.
I'm not here to argue for it or against it – my question is different.
Only recently did I find a map of the potential site (Shown below).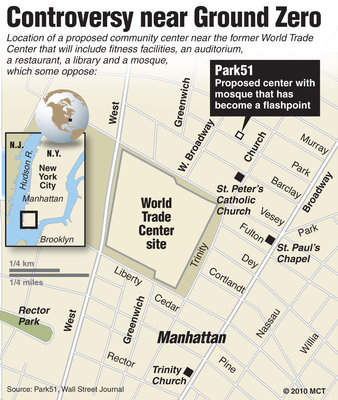 It turns out the mosque would be two blocks away from the northern edge of ground zero. And if if you know NYC at all, one city block can represent an entire planet of different stores, cultures, languages, religions, sports teams, and cuisines.  To be two blocks away, in terms of density and diversity, can be enormous.
Physically, two blocks is likely a distance of 400 feet, more than the length of a football field.  And that's from the northern edge of the entire WTC site:  the main towers were another 100 feet or more to the south.
There are two mosques already nearby WTC. Masjid al-Farah is about 12 blocks away. And just 4 blocks away from WTC (2 blocks past the proposed new mosque), is Masjid Manhattan.
I'm fascinated by any argument over invisible, ill-defined boundaries – and I'm curious, especially for a city as dense as NYC, where that boundary ends for all sides.
My question is this: Exactly how far away would a mosque, or any building for that matter,  have to be "not" to be considered near ground zero? 5 blocks? 10?