My talk at Google HQ, on Confessions
I wrote a few weeks ago about how my talk at Google about Confessions was the toughest room I'd had all year (with photos, and countermoves). The room was adjacent to a noisy cafeteria,at lunchtime, and an exposed busy hallway of folks on their way to and from the cafeteria: bad news all around.
The funny thing is, video is flat. It evens out the highs and lows, and the audio track isn't mixed: there's only what you hear through my mike. If I didn't tell you, you'd never know how tough that room was, and how much of an impact the background noise had on me, and the vibe in the crowd.
Below is a picture I took of the reverse view, where you can see the cafe behind, and the hallway on the left, 10 minutes before the talk began.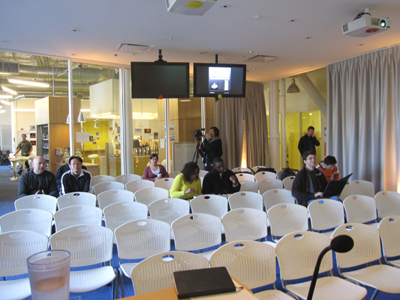 Well enough whining. I'd be a hypocrite if I didn't show videos of talks I didn't enjoy. So for your curiosity, here's the video of the talk. The Q&A, which is better, starts at 34:00.