Seattle Ignite #12: the recap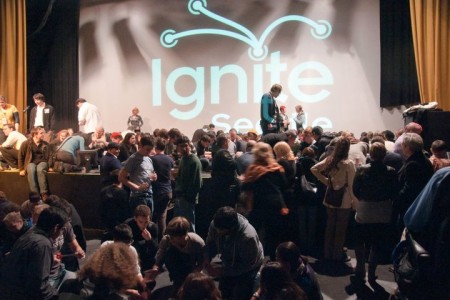 Last night was the 12th Seattle Ignite and they celebrated their 4 year anniversary. How awesome. I had the honor of speaking at the first Ignite in 2006, and it's amazing how far this thing has come (Photo credit: Eugene Hsu).
When it started it was a crazy format that few understood (20 slides per speaker, 15 seconds per slide, automated = 5 minutes per talk. 10-15 talks per night, inspired by Pecha Kucha). Half the fun was watching smart people struggle live on stage with their own slides. Since the bar for entry was low, it was safe for people to take a chance, and the audiences were super supportive as a result. But people have seen this enough they're gaming the format – some people are exceptional at optimizing for this kind of speaking.
Which makes me think its time to change the format, or at least encourage more curveballs and cheats, like I recommend in the Ignite talk I gave about how to speak at Ignite.  This isn't the Olympics. There's no score and no prizes. If you have a great idea that requires hacking the format, do it. What is a "slide" really anyway?
As long as something happens every 15 seconds, the goal of more interesting presentations has been served.  You could pick 20 pretty backgrounds that have nothing to do with what you're saying and show those (juxtaposition can be cool). Or have 20 blank slides. Or have a jigsaw puzzle made from one slide that fills in piece by piece every 15 seconds. There's plenty of room for innovation here.
I hacked the format last night, showing a time-lapsed video of me writing this essay as my 5 minutes (I had permission from the organizers – thanks Brady and Randy). Some people said to me after "but you're cheating" and I said "Absolutely. But was it interesting?" Rules are the means, not the ends.
Here's my actual recap:
I didn't catch all the speakers, but here were my notes.