Book review: Creative workshop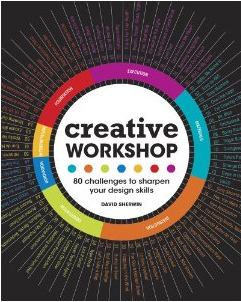 I've been around for awhile, and have stacks of books claiming to spark design skills and creative thinking. Most end up in the back corner of the shelf, never living up to their promise. I'm impressed, and happy to say, Creative Workshop: 80 challenges to sharpen your design skills, book is a different breed.   It's authored by David Sherwin, who runs the Change Order design blog.
It's a beautiful book. There is design love and care on every page.
It's designed for reading and use. It's not a coffee-table book or pretty play thing.
There's a free teacher's guide, to help instructors and managers use the book.
The inspirations aren't just in the book's design (a common failing in design books), but the stories, and challenging exercises even experienced designers can benefit from. It's an easy book to use for team challenges, offsites and to teach old dogs some new things.
It includes exercises from a wide range of kinds of design, which is fun and challenging. Some are print based, others are interactive, or involve urban wayfinding, advertising, web apps, dishware, clothing, you name it. It fulfills the idea of forcing you to stretch your creative muscles.
Highly recommended for people who want to learn by making, and who have some design experience but want to grow and stretch their creative abilities. It'd make for a great team building book, where the entire team picks a challenge and does them together, doing a show and tell of their work each week.
The first 24 pages are available for free on scribd.
And it's listed on amazon.com here.