Confessions now in Paperback
Confessions of a Public Speaker has reached the sweet milestone of being republished in Paperback.  It's now cheaper, smaller, and friendlier. It won't hurt your foot so much if you drop the book on it, and you can bend the cover in all kinds of creative ways to fit into bags, big pockets or tight corners.
It's really an amazing little book, garnering nearly 100 reviews on amazon, 96 of them 4 or 5 stars.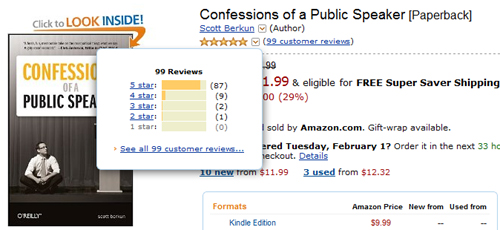 If you've been waiting for the paperback edition to buy a zillion copies for your co-workers who regularly put you sleep with PowerPoint, or to find a volume slim enough to secretly slip under the office doors of your executive team, the time is now.
And you can of course check out great free excerpts from the book: Attack of the Butterflies and How to make $30,000 an hour.
To celebrate the release of this new edition, I'll be posting once a day this week on speaking.