New update on the next book
After a pre-spring hiatus, things are rolling again on book #4.  First update on the book is here, and then weeks ago I let you all vote – here are the results: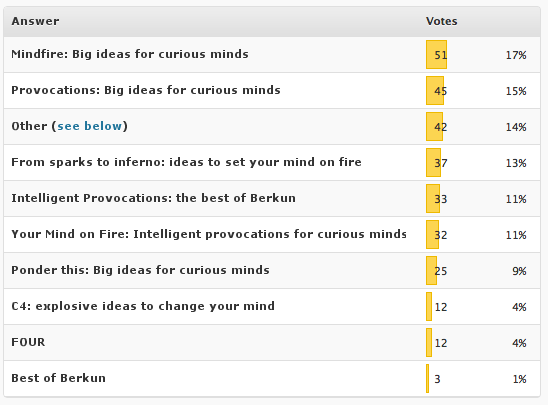 As you can see 14% of you chose to take things into your own hands, and offered a write-in vote for the title. Since you took the time, I did read them all and they're listed here:
Big ideas for curious minds
Intelligent Provocations: Big ideas for curious minds
Idea Inferno
Provoke the Mind; Idea Punk; On all Cylinders; Ignite your Mind; Idea Science;
Provocative Ideas for Curious Minds
The no BS guide to…
Making Scott Talk
Provocateurs: Reclaiming curiosity
Flame On! Ignite Your Mind
Intelligent Provocations: How to communicate big ideas to the masses
Because! (and other answers)
The Power of Serendipity
Ponder this: Intelligent provocations for curious
Provocative Ideas, Curious Minds
Advanced Trolling: Intelligent provocations for curious minds
A Mind's Eye: my thoughts light fires in your cities
With Provocation: Challenge Everything
Ideas of a curious mind
The Berkun Blaze: Hot Ideas to Set Your Mind on Fire
Berkun Bag of Big Ideas
Fear me?
Steal this idea
Curious Minds Always Have Big Ideas
Its All About the Money
Poke your Brain with a Stick
Intelligent Provocations: non-polarized explosive thoughts
spark to inferno: ideas to set your mind on fire
The firebrand for your mind
only ok – tried playing off synonym of Confession?
Scott Berkun: Intelligent Provocateur
In Summation
Your Mind on Fire: Big ideas for curious minds
______ : Big ideas for curious minds
Arguendo: Intelligence, Provoked
Pyrobrainiac: Set your mind on fire
Questionable difficulty
Provocative Intelligence
Minds on Fire: Big ideas to challenge how you think
Provocation: Challenging ideas for curious minds
My team of Tim Kordik and Krista Stevens will have another update soon. Stay tuned.