Now scottberkun.com has threaded comments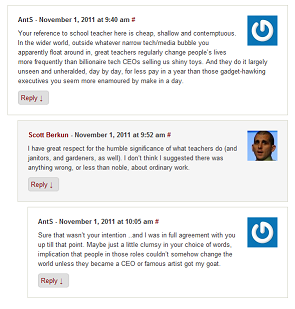 It only took a zillion years, but scottberkun.com finally has fully threaded comments. Now you can disagree with someone, and have them disagree right back, with visual formatting that fully clarifies they are disagreeing with just you and your post, and not anyone else.
Jokes aside, it does make long comment threads easier to read. It also gives feedback to commenters on which new comments are in response to their previous ones.
Oddly enough, I work for WordPress.com on comments and other UI features, so it's particularly embarrassing it's taken me until this decade to finally getting around to adding this simple little feature. For good measure, there is also comments paging now, so posts with 50+ comments are faster to load.
If you have other feature requests for the site, now is the time as I'm on a roll.