The secret life of blurbs
Blurbs, the quotes from famous people that appear on books, are curious things. They've been around forever, and show no sign of going away. It takes work for an author to get them. When you see a high profile name on a book it means the author, or their editor or agent, is well connected. It's not a democratic nor meritocratic process.
The work involved goes something like this:
Publishers and authors want to sell books
Endorsements from famous people, in theory, help sell books
To get a blurb, authors ask everyone famous they know, or friends of friends of famous people
Some of those people agree to consider it – many decline or don't respond
Some of the people who agree actually look at the book
Of those people, some offer a blurb, many decline here too
Of those that offer a blurb, some are good enough to use
It's a long, nag-filled process. Reading a book takes time, as does writing a short quotable summation of it.
Some famous people never give blurbs (I know because I've asked them, and they told me). Other famous people love to blurb as many things as they can (It'd be interesting for someone with google-fu to see which famous people give the most blurbs).  It's likely many famous people give blurbs without even skimming the book (quid-pro-quo blurbing is common), whereas others insist on reading the entire thing before considering anything.
My first 3 books have many great blurbs from famous people, and I'm grateful for them. But for such a small piece of copy, people have very strong opinions about what they do or do not imply.
The singular blurb for my new book, Mindfire: Big Ideas for Curious Minds is unique. It's unusual because unlike every other blurb I've seen, I, the author, wrote it myself. "You are smart enough to buy books for better reasons than a famous person you don't know saying you should." It's my book, why not be honest?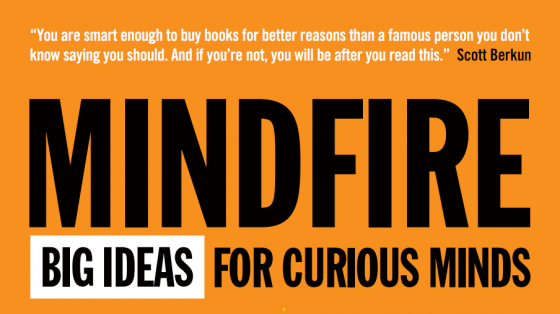 I hope you find it amusing, or at least clever. Here's why I did it:
Most blurbs sound the same. I figured a more interesting and honest blurb may earn more attention than a famous person you don't really know saying "I love this. It was better than Cats" or "Amazing read" or another thing much like what others have said about other books.
As a self-published book, I'd rather invest time in making the book awesome. If I could skip the laborious and unavoidable steps listed above for hunting blurbs, I could focus more energy on making the book itself worthy of attention. Was it a mistake? I'm not sure.
Given a chance, people can evaluate things themselves.  I decided to give 1/3rd of the book away, for free, as a Preview (PDF). I think most people know how to skim a book and decide if it's interesting or not, all on their own.
Did I make a mistake? Do blurbs make a big difference in your book purchasing decisions? If not, what does?
If you want to know more about my self-publishing experience, read this.