What I learned from losing a leg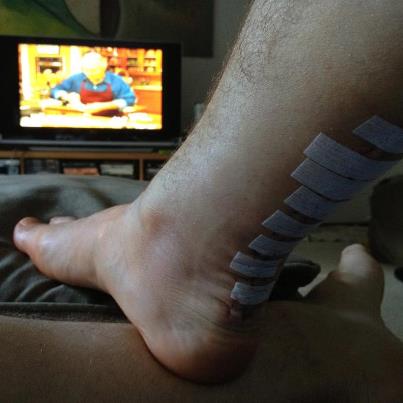 Three weeks ago I tore my Achilles tendon playing basketball. Just like a well worn rope that snaps from being pulled too hard one too many times, it tore completely during my regular basketball game at the gym.
Everyone asks "what happened?" assuming there must be a grand story, like I reverse dunked over three people but misjudged the landing, or hit a game winning shot from half court, but someone fouled me hard, causing the injury. There wasn't. It was entirely boring. No one touched me. For those who saw it happen, they saw me push down on my right foot to cut to the basket and I simply fell over as if a ghost had swept my leg from behind. It looked funny and harmless, as if I had forgotten where the floor was and tripped over it, surprised it was there. NBA star Chauncey Billip's tore his Achilles the same way during a game last year, as you can see in this video.
I've played competitive basketball my entire life and know my body well. Sitting there on the court in mild shock, holding my ankle, I knew something very bad had happened.  Since that day I haven't been able use my right leg for anything, which has been surprisingly traumatic.
Of the many serious injuries a body can suffer, the repair for this one is simple, if slow. The loss of use of my leg is temporary: 4-8 weeks. They surgically reconnected the tendon last week (see photo), and with rehab and care I can likely play basketball again in 5-7 months. Despite the impermanent nature of my injury, it has had some permanent effects on how I look at things.
Here's what I've learned. These may be obvious to you but these were new, or humbling reminders, to me:
Disability is isolation. I can't drive. If I can't drive, I can't go to the gym each day. If I don't go to the gym each day, I can't stop for coffee or at the bookstore, or meet a friend for lunch, or a dozen other little daily habits that keep me sane. I don't live in a convenient place designed for this kind of thing. I'm self employed and write from home. I've had to find new support systems to make my life work.
Everything demands minute planning. I generally cook for myself and love to do it, but now my kitchen is a logistics nightmare. When on crutches, you lose use of your hands. Without hands you can't carry anything. Normally, to make a meal requires dozens of thoughtless trips from the refrigerator to the pantry to the stove and back. Each one of those trips is an exercise in logistics now. Going to the bathroom, taking a shower are all long sequences of thoughtful acts that must be planned.
I see everything in small terms. We all forget all the little things our bodies do when we run down the street, or throw a frisbee. When something breaks, those seemingly simple tasks become complex. Every action has to be planned, considered, tested and carefully executed. Rehab is relearning. It takes me forever to get around the house, or to get from a parking lot to a store. I'm attentive, for better and for worse, to the small. My ankle will have to relearn all the basic things we expect our ankles to do for us.
100 years ago I'd be crippled.While the surgery is simple by today's standards, 100 years ago I'd be walking with a cane the rest of my life, if I could walk at all. Grateful to the universe for being born at this time.
I'm connected to wheelchairs, handicapped parking spots and people who need help. I notice all these things because at the pace I'm able to travel, my companions are other people with issues the world isn't designed for.
My mind follows my body. I'm a productive writer because I have a healthy body. I go to the gym nearly every day to clear my mind and let my subconscious work on problems for me. I haven't been to the gym in almost a month. I'm still struggling to find a new way to balance stress and find physical relaxation.
I'm sad about the prospects of losing basketball from my life. It will be a long road to recovery and there are no guarantees at what level I'll be able to play. Basketball is the  place I've learned most of what has made me successful. But sorting out what's possible and dealing with my feelings about it are so far in the future, and I'm dealing with so much in the present, that I have no choice but to postpone worrying about it until I'm there.
I'm always grateful for people and things that get me to think and this experience definitely qualifies. I'll be looking at the world from a different perspective for awhile. If nothing else, I've always been a fan of mythology – I now have a permanent scar connecting me with the legend of Achilles!