Gravity: movie review (spoiler free)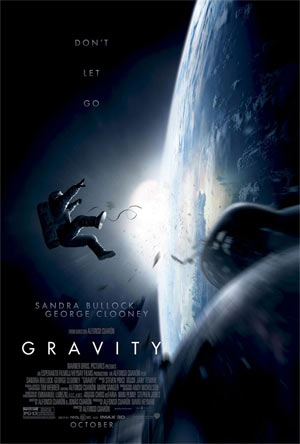 Side story: as I kid I remember the joy of stumbling on a movie on TV where I had no idea what it was and loving it in part because I had no idea what was going to happen. That almost never happens anymore. We are such proficient consumers now that we know far too much about films before we see them, and most reviews and previews are effectively Cliff's notes versions of the stories. I need more film serendipity so I can have more film pleasure. Gratefully I didn't know much about Gravity other than the trailer.
My theory of movie reviews is to share why people should see, or not see, a film without ruining it. Never tell the plot. Never give away anything. Good critics can do this.
Review: Gravity is good. The film Gravity is very good too (ha ha). You should see it. You probably saw a preview or a post and know it's about space. This is true. I recommend the film for three reasons:
It is a patient film. Any time a filmmaker doesn't feel the need to jam every second with action, explosion or wisecracks it shows they have respect for the audience's intelligence, and confidence in what images they've put on the screen. Gravity is beautiful and has many amazingly good looking scenes that will wow you in between moments when you are holding on to your seat, or sometimes while you are holding on to your seat.
 It is about space. I like space. I bet you do too. Most space films are very noisy even though, as we learned from Kubrick's 2001: A Space Odyssey, space is very quiet. Gravity gets some of that realism about space right and uses a movie theater to transport you into what space probably feels like. There are some sequences that will make your jaw drop. This is what movies, in the grand sense, should do.
Sandra Bullock. She is given a chance to give an authentic performance unlike most films you associate her with.
As with all movies about space I'm sure there are entire newsgroups dedicated to comparing the space physics in Gravity with real physics but I assume you go to see films with your suspension of disbelief filter set to on.
Definitely see Gravity it in the theater. I saw in in 2D since 3D is stupid (you know it is).