Sept 17th: Official Launch for The Year Without Pants (details)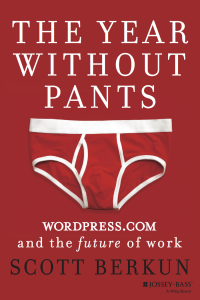 Hi folks. We're getting close.
Tuesday September 17th will be the official launch date for my 5th book, The Year Without Pants: WordPress.com and The Future of Work.
The way PR works, the more attention I can garner for the book simultaneously, the better.
If you can help, please do one or more of the following:
Mark your calendar for Tuesday Sept. 17th
Buy the book (or 1052 copies) on the day
Plan to blog, tweet or Facebook about the book
If you've got a pre-release copy, post an amazon review on or before this day
Join the Facebook event, if you'd like to follow along there
Thanks for your support. It's been three years of work and so excited to finally share the book with all of you.
As an appetizer: You can read chapter 1 of The Year Without Pants here. And some early reviews.