Orwell's Animal Farm – Book Review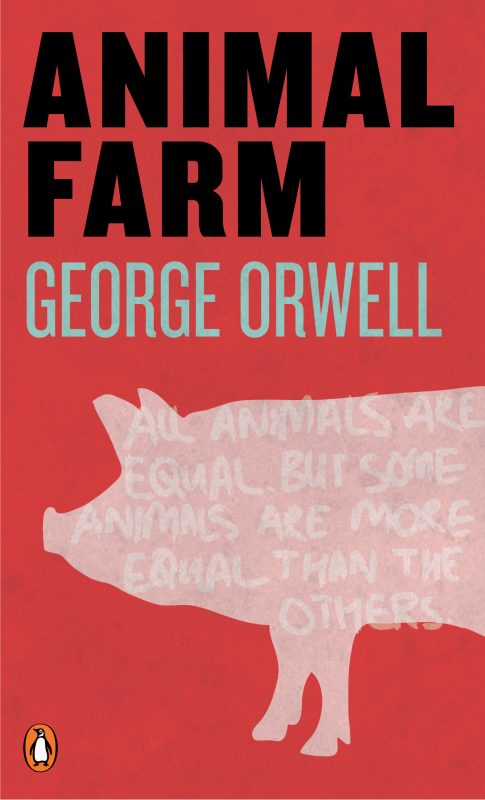 I've read Orwell's Animal Farm three times now: once was in high school when I wasn't paying attention, another was in my 20s when I felt I owed it a second chance and then again this week as part of an inquiry into what's happening in the world. While it's well known that the context Orwell was thinking of for the story was the Russian revolution, many themes resonated with the America and world I find myself in today. I'm also embarrassed to admit that for all this time I never knew that Pink Floyd's Animals album was largely inspired by Orwell's Book. Live and learn.
The insight of the book, beyond the allegorical fun of comparing people to animals, is its encapsulation of the nature of power. In this regard the book reminded me of Lord of The Flies, where little by little the assumptions about human nature are stripped away and what is left is surprising, true and terrifying all at once. By using a fairy tale it's easy to keep some distance from what happens in Animal farm, after all it's just a bunch of animals, but at the same time any reader understands that this is an allegory, and it's making commentary about us all along.
The biggest surprise in this reading of the book was the gentle the slope of moral decay. Somehow we imagine that big changes come in waves, as popular history talks of revolutions and wars as sudden, dramatic events. But in Animal Farm as each layer of morality is stripped away it happens so slowly and naturally that it's comprehendible some wouldn't notice it at all. Or could easily choose to ignore it out of denial, stupidity, indifference or (increasingly) fear. Unless there are opposing forces successfully working against denial and indifference, what hope could there be?
I found myself asking how can it be so easy to separate the spirit of the law from the letter of the law? But then I think of the history of religion and mass movements, or debates about the 2nd amendment (where smart people on all sides have entirely opposing interpretations of the same handful of words) and know there are all too familiar patterns, dark ones, at work here. Somehow in the world of Animal Farm there are always good reasons for bad things happening, since the only reasons you are allowed to hear are ones that come from those in power, and soon you are compelled to want to believe life isn't so bad at all, as it's less scary than the alternative.
Without giving the story away, here are some choice quotes from the book, which I hope you will read:
From the preface / appendix:

"revolutions only effect a radical improvement when the masses are alert and know how to chuck out their leaders as soon as the latter have done their job."

"If one loves democracy, the argument runs, one must crush its enemies by no matter what means. And who are its enemies? It always appears that they are not only those who attack it openly and consciously, but those who 'objectively' endanger it by spreading mistaken doctrines. In other words, defending democracy involves destroying all independence of thought. This argument was used, for instance, to justify the Russian purges. The most ardent Russophile hardly believed that all of the victims were guilty of all the things they were accused of: but by holding heretical opinions they 'objectively' harmed the régime, and therefore it was quite right not only to massacre them but to discredit them by false accusations."

From the text:

"Man is the only creature that consumes without producing. He does not give milk, he does not lay eggs, he is too weak to pull the plough, he cannot run fast enough to catch rabbits. Yet he is lord of all the animals. He sets them to work, he gives back to them the bare minimum that will prevent them from starving, and the rest he keeps for himself."

"THE SEVEN COMMANDMENTS

Whatever goes upon two legs is an enemy.
Whatever goes upon four legs, or has wings, is a friend.
No animal shall wear clothes.
No animal shall sleep in a bed.
No animal shall drink alcohol.
No animal shall kill any other animal.
All animals are equal."

"A bird's wing, comrades,' he said, 'is an organ of propulsion and not of manipulation. It should therefore be regarded as a leg. The distinguishing mark of Man is the hand, the instrument with which he does all his mischief."

"The animals formed themselves into two factions under the slogans, 'Vote for Snowball and the three-day week' and 'Vote for Napoleon and the full manger.' Benjamin was the only animal who did not side with either faction. He refused to believe either that food would become more plentiful or that the windmill would save work. Windmill or no windmill, he said, life would go on as it had always gone on— that is, badly."

"and it became necessary to elect a President. There was only one candidate."
Related: