By Scott Berkun, Aug. 28 2006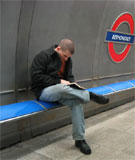 [2] True story. This essay started when someone sent me a link to this essay on When you can't get started, which you might like, but I had trouble with. Halfway through I had so many ideas I jumped into a blank page and didn't stop until I had a draft of much of this essay. Mind you, as a writer I know this subject well, and had done plenty of thinking on this topic beforehand.
[3] By the act of writing "writers often write about writing" I'm writing about writers often writing about writing, which means you're reading about writing about writers writing about writing. Say that ten times fast and I'll give you a cookie.
[4] I wrote the novel on and off for 10 years, and finished in 2005 (with draft #5). Currently unpublished.
Further advice: 
I thought for sure there would be many essays titled "writing hacks" but I only found one. Most links are to things about writing code hacks.