New coke: an innovation case study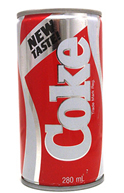 There was a report today of Coke employees selling trade secrets, which reminded me of the New coke saga, a tale of failed innovation.
Most who were around in 1985 recall this as a huge fiasco, where a bad drink was rejected by the public. But the details are much more interesting, as Coke did many things right from an "innovation as strategy" perspective.
What went right:
Coke chose to move forward in response to real market pressure, rather than defending their existing products.
They had their best R&D & flavor people design the new product.
Extensive taste testing and veteran approval were sought, and all pointed to them having a better product.
They put big $$$ behind a major rollout campaign.
What went wrong:
The press conference (April '85) was a disaster. Coke failed to explain why they made the change and did not acknowledge Pepsi taste test, or any taste testing done by Coke in R&D.
Pepsi attacked with counter-ads, including a full page ad in the New York Times.
According to Gladwell's Blink and other sources, the successful taste tests of New coke didn't suggest people wanted an entire 12 oz. portion of the new formula.
The result:
There was initial acceptance and the product did well it's first weeks, sales up 8% compared to previous year.
However public outrage grew, with groups protesting New Coke (especially strong in the south).
By June '85 there was enough public pressure and complaints from bottling suppliers that Coke execs were under pressure.
In July '85 Coke brought Classic Coke back to the market.
It's a great story of the risks of innovation. Coke did many things right – their greatest mistake was underestimating their customers lack of interest in innovation: they were surprisingly happy with how things were.
(See wikipedia's excellent entry on the New Coke saga).