iPhone vs. Light Switch: which invention is more impressive?
If you could only pick one, would you rather have power in your home or a working iPhone?
We tend to believe that the latest inventions are the most significant, but often the opposite is true. Running water, electricity, shelter, heat, safe sources of food, and good medical care are far more important for quality of life than nearly anything else. And as far as convenience, a reliable power source in our homes that we can activate with the flick of a switch (something 25% of the planet's population still does not have) is more impressive than an invention than merely uses that power.
I admit comparing technologies across time is unfair in some ways, as domestic electricity was invented first. But in terms of how much we depend on particular inventions to live, comparisons are useful. The exercise exposes how much we take for granted. Or perhaps more importantly, improves our aim for new inventions that do more than attempt to add convenience, but that truly improve our lives.
I recently conducted a simple poll on twitter asking the question: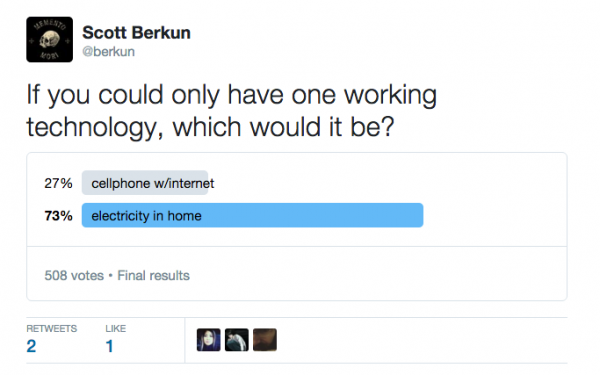 Of 508 votes, 73% voted for electricity, and 27% for the cellphone (The poll didn't let me explain, but my intention was the the cellphone could have unlimited power of its own and the internet worked fine on it. But if you chose electricity, you could not have a cellphone). Of course twitter polls have high bias (who are my followers? how do twitter audiences differ from the rest of the population) but it's interesting nonetheless.
My belief is that for many among the 27%, if they actually experienced this choice for more than 24 hours, their answer would change. They  underestimate how much they depend on electricity to do for them, from keeping their food cold, to heating their apartment, to washing their clothes and keeping the lights on (better go buy some Apple candles).
In a recent post comparing Tesla to Steve Jobs, writer Rajan suggests the light switch is at least as impressive an invention as the iPhone. And I agree. If for no other reason, the invention of domestic electricity had to be done without the benefit of electricity itself. In the 1880s, in the age of horse drawn buggies and hand (or steam) powered tools, they had to not only invent electric power generators, and neighborhood transformers, but also provide the installation of physical power lines across cities, streets and sidewalks. To upgrade a phone is easy, but how would you upgrade the entire power grid of a city? Far more challenging. The rate of technology change is faster today, but mostly with technologies that are far easier to upgrade.
The iPhone and the light switch are both tips of the innovation iceberg. They depend on a massive network of other technologies and inventions to function. With no internet or cell service, a cellphone has limited use, just as a light switch in a house that hasn't paid its power bills, doesn't do much at all. As consumers we only see the final interface, the last layer, but what makes an invention impressive or not might be best understood by studying the amazing things required to make that interface work, that in daily use we'd never even notice.
Electricity demanded the introduction of entirely new concepts to ordinary citizens. A transformation the iPhone did not have to force, as its very name reuses concepts well known by the average citizen when it was released in 2007 (its arguably an amazingly powerful wireless telephone). The technological and conceptual leap of in home electricity likely surpasses, in impact on daily (and night) life anything we've invented in the last two decades (facts supported by the excellent book, Empires of Light: Edison, Tesla, Westinghouse, and the Race to Electrify the World).
If you disagree, do this simple exercise: go for 48 hours without using electricity in your home (except the power required for your cellphone and internet access). Then report back and leave a comment.