Why innovation efforts fail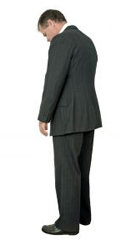 As I'm on the home stretch of finishing the first draft of the book, I've read nearly 100 books on innovation, plus various studies, papers, magazines, and more than 100 interviews with innovators of various kinds. One trend I've found is the high number of innovation efforts within established companies, and how rarely they have any effect.
Established companies try to retrofit innovation into organizations by things like task forces, committees, portals and suggestion systems.
Have you seen these efforts in action? I'd love to hear why you think they worked, or didn't. I'm cynical and here's why:
Task forces and committees are seperate from the real teams. Unitl the teams doing actual work are rewarded for being progressive, innovation doesn't reach products no matter what the task forces do. All the true barriers are still in place.
Suggestion boxes go to the same people who vetoed the last five good ideas (Imagine Darth vader with a suggestion box). The problem with innovation is rarely finding ideas: ideas are easy. Instead its finding someone in power with the convinction to take risks and empower creative teams.
Innovation and change must be core values, not layers or addendums. You can't make a company innovative by sprinkling magic innovation dust in the hallways. Instead you have to grow a culture, and hire individuals, that are comfortable with risk, and reward managers willing to support the creatives who report to them.
Who has the power to stop innovation? Eliminating the real blocks can be more effective than trying to add some magic new mojo to the organization.
Can you name the innovation leader in any field that got there by committees and task forces? Most innovative companies don't need any special innovation effort – they built a culture of exploration and risk taking, perhaps out of competitive necessity, as their way of getting good work done.
Innovation efforts that work:
There are a few things I've seen in my research that established organizations have done that work.
Pilot project. Organizations that form a new project team, give them big goals, and get out of their way. Once they succeed, they come back into the fold as a seed of innovative teamwork that other projects can copy, emulate, or build on. (See skunkworks)
Risks and Rewards. Innovation comes with the price of risk. In organizations led by risk takers, innovative cultures are natural as they feed off the leader's willingness to try new ideas. If a leader is open to change and supportive of his most creative thinkers, innovation will come naturally.
Avoidance of innovation for innovation sake. Not everyone needs to innovate. Only certain projects at certain times need to reinvent, retry, or radically change. If everyone is asked to innovate all the time, no one is really innovating: it's nonsense. It has to have a purpose and a reason, aligned with a strategy.
Culture and environment. Innovative organizations, even large ones like 3M, have a long history of supporting individuals in the pursuit of their ideas. 3M invented the "10% work on your own project idea" that Google has made famous. Big companies can be innovative just as small ones, provided the culture and environment support it. Big organizations need long cycles for any culture change, but it can be done by starting small and growing.
So what have you seen work, or fail? I'd love to hear some opinions.